In short: This online tool will scrape Instagram posts that have a certain hashtag.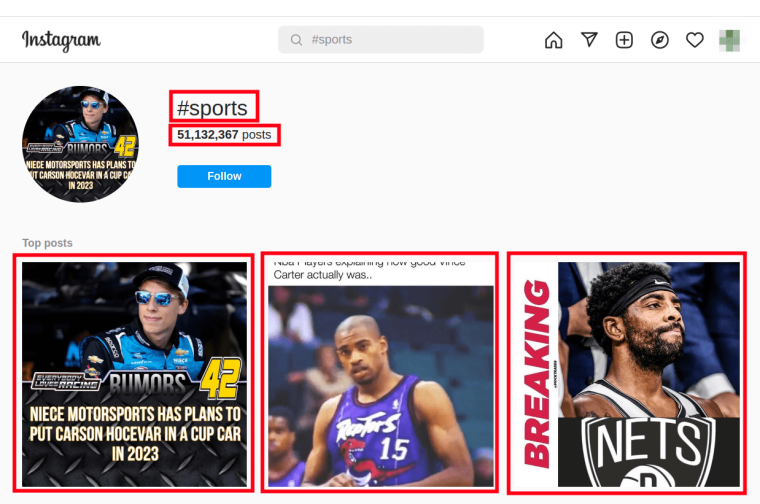 Click to view the example data output file for a better idea of the result.
⚠️ No # symbol needed. ⚠️
Why scrape posts from Instagram hashtag feed?
You can scrape Instagram hashtags feed for multiple business-related purposes including SEO, SMM, products promotion and many more.
The bot can easily grab the following details:
Post URL
Taken at
Taken at date
Text
Media type
Code
Short name
Name
Username
User URL
Is private (true / false)
Full name
Address
City
Lng
Lat
Is eligible for guides (true / false)
Accessibility caption
Caption is edited
Like and view counts disabled
Commerciality status
Is paid partnership (true / false)
Comment count
Title
Product type (e.g. feed, carousel container, etc.)
Is post live (true / false)
Original width
Original height
Has anonymous profile picture (true / false)
Has highlight reels (true / false)
Like count
Can see insights as brand (true / false)
Has audio (true / false)
Video duration
View count
How to find top posts on Instagram by hashtag?
Sign up on Botster
Go to the bot's start page
Select the number of posts to scrape (per hashtag)
Paste the hashtags. No # symbol needed (e.g.: learnenglish)
Click the "Start this bot" button
That's it – the Instagram hashtags extractor has started its crawl!
Troubleshooting
Hashtag insertion
A hashtag is a tag that is prefaced by the hash symbol, #.
Make sure you've inserted your hashtags without the # symbol and without white spaces, otherwise the bot won't return any results. For example, paste englishclasses (not '#englishclasses' or 'english classes').
Software walkthrough
1. Open the Launch bot form
Click on the "Start bot" button on the right-hand side of this page to open the spider's form:

2. Enter the details
Give your "Job" a meaningful title, and optionally specify (or create) a project folder:

3. Specify the number of posts.
Select how many posts you would like the bot to scrape:

4. Insert the hashtags.
No # symbol needed. Each hashtag must go on a new line:

5. Specify time settings.
Click on the checkbox if you want this bot to find Instagram posts by hashtags and extract them regularly:

Once you've clicked on the checkbox, the available options will appear. You can set the bot to run:
every day
once a week
twice a week
once a month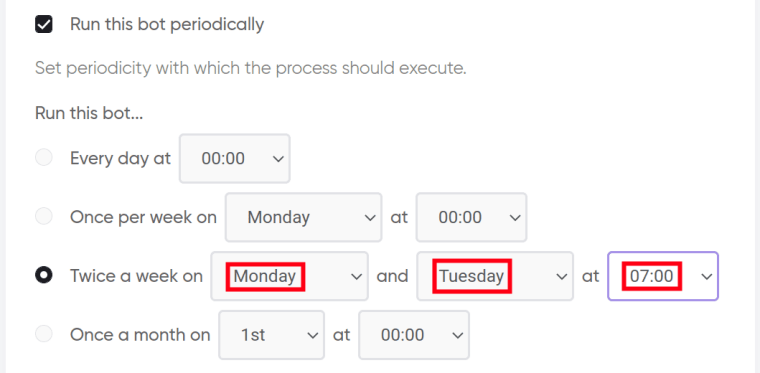 You can set the job to run until stopped manually or to stop at a certain date.
If no longer needed, the job can be stopped either manually or at a certain date specified in advance:

6. Set up notifications.
Specify if you would like to receive a notification when the Instagram top posts finder completes the crawl: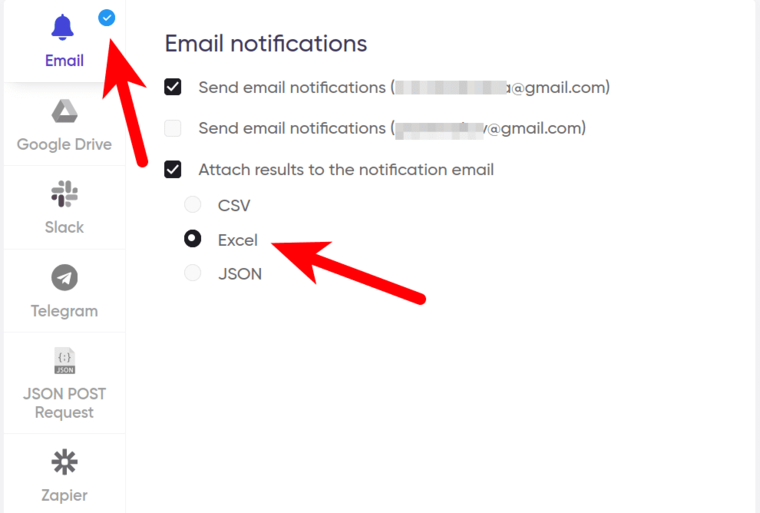 7. Start the bot!
Click the "Start this bot" button on the right-hand side:
That's it! You will be taken to your "Jobs" section. The software is now working and will notify you once it's done scraping Instagram posts.
Data output
After the bot completes the job you can download your data as an Excel (XLSX), CSV or JSON file.