In short: this Amazon price tracking software monitors a product's price on Amazon and sends you notifications when it changes.
It can also monitor unavailable products and notify you when they become available for purchase (read the details below), or when they become out of stock.
This Amazon price checker app is great for monitoring your competition and/or tracking an item's price drop on Amazon for purchasing it later.
Using the Amazon price change tracker: video tutorial
How to set Amazon price alerts?
To track a product's price on Amazon, you need to follow these easy steps:
Sign up for Botster
Head to the bot's start page
Paste the URL to the product you'd like to track (with ASIN)
Schedule your monitoring time
Select pricing alert strategy (see the description below)
Pick the notification method (email, Slack or Telegram)
Click the "Start this bot" button
That's it!
Product availability alert
You can set up tracking out-of-stock items using the Amazon price tracker online as well. The tool will display a $0 (ZERO) price for unavailable products, and once the product becomes available, its price will change, hence you will get a notification.
Likewise, if a product becomes UN-available, the price will change from $99 (for example) to $0 (zero), and the Amazon price alert app will notify you about it.
Data output
The Amazon price drop tracker will store price history as well as display a chart of it.
Notifications on price changes
You can select two types of notifications:
Notifications on any price change
Flexible notifications: when a price reaches a certain level (equals, falls below or raises above a certain value)
You can pick several notification delivery types:
Software walkthrough
1. Open the Launch bot form
Click on the "Start bot" button on the right-hand side of this page to launch the Amazon price fluctuations tracker:

2. Enter the details
Give your "Job" a meaningful title, and optionally specify (or create) a project folder:

3. Copy the product URL
Go to Amazon, open the page of the product you are interested in, and copy its URL: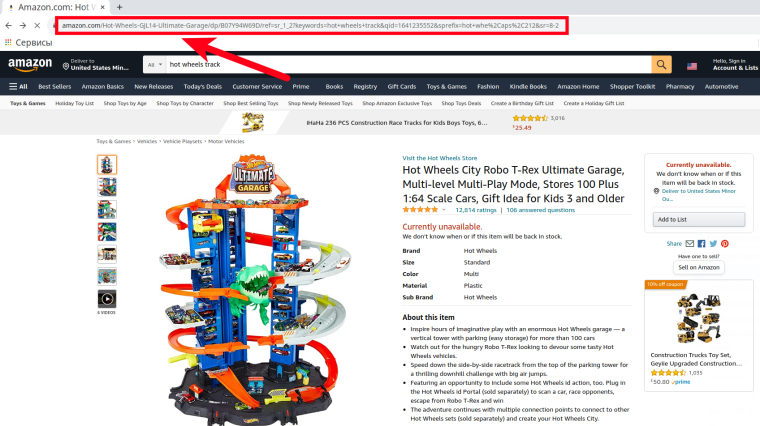 4. Paste the product URL into a special field

5. Adjust notification frequency
You can set the Amazon item price tracker to notify you either on any price change or when the price reaches a certain level:

6. Specify time settings
You can set the Amazon price fluctuation tracker to run:
every hour
every day
twice a day
once a week
twice a week
If no longer needed, the job can be stopped either manually or at a certain date specified in advance:

7. Set up notifications
Specify the channel for the bot to send you Amazon alerts when price drops:

Optionally, you can set the bot to send you notifications even if there have been no price changes over the time period specified:

8. Start the bot!
Click the "Start this bot" button on the right-hand side:

That's it! You will be taken to your "Jobs" section. The software is now working and will send you an Amazon price change notification every time when it takes place.