In short: This online tool will extract contact information from a list of websites.
Click to view the example data output for a better idea of the output.
⚠️ The bot works smoothly with small to mid-sized websites, however, if you are going for larger sites with enabled bot/spam protection, the bot won't work at all. ⚠️
How to scrape phones and emails from websites? Video guide
Watch me walk you through the email and phone number crawler bot's setup.
A fast and simple email lead extracting software, this bot can be used for multiple purposes.
You can easily grab the following contact details:
Emails
Cell and work phone numbers
Links to Twitter
Links to LinkedIn
Links to TikTok
How to scrape contact details from websites?
Sign up on Botster
Go to the bot's start page
Select the number of pages to visit (per site)
Select the contact types you would like to scrape (phones, emails, social network links)
Enter the links to websites. Each URL must go on a new line.
Click the "Start this bot" button.
That's it – the email and phone number extractor process has started!
Troubleshooting
Captcha and bot protection
It is known that the phone grabber bot won't be able to access websites in case they are using bot protection solutions such as CloudFlare, etc.
AJAX
This email harvesting program is likely to have trouble parsing complex AJAX-heavy documents.
Software walkthrough
1. Open the Launch bot form
Click on the "Start bot" button on the right-hand side of this page to open the spider's form:

2. Enter the details
Give your "Job" a meaningful title, and optionally specify (or create) a project folder:

Select the contact types you need to pull: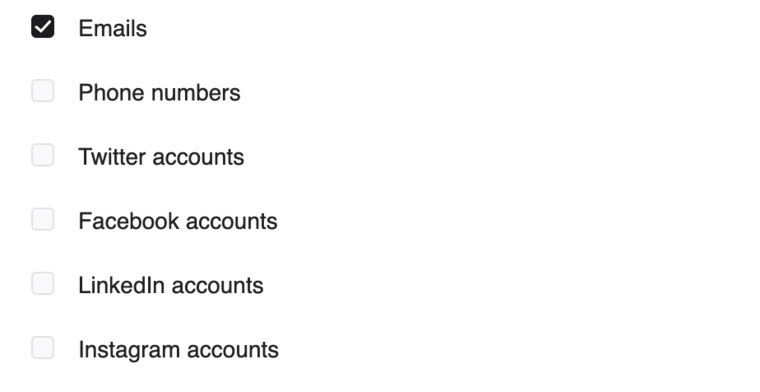 Specify, whether you would like the crawler to browse each site and scout for data, or just scrape details from a single specified URL:

Insert the URL list, from where we will be scraping contact details: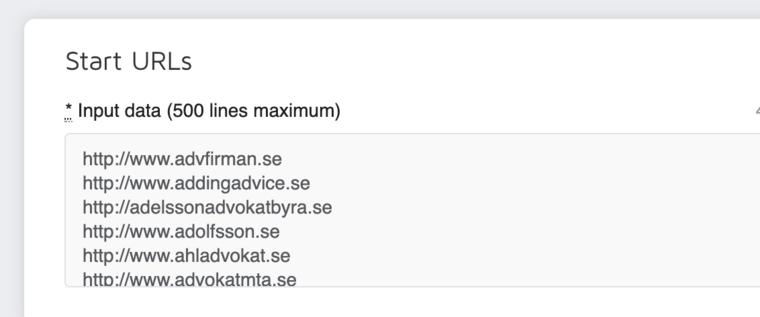 3. Set up notifications
Specify if you would like to receive a notification when the grabber completes the crawl:

4. Start the bot!
Click "Start bot" button on the right-hand side:

That's it! You will be taken to your "Jobs" section. The software is now working and will notify you once it's done.
Data output
After the bot completes the job you can download your data as an Excel (XLSX), CSV or JSON file.