In short: This online tool will extract Booking com customer reviews for a given hotel.
Click to view the example data output file for a better idea of the output.
⚠️ You can scrape one hotel per session. You can run as many sessions as necessary. ⚠️
Here is where user reviews are located on the hotel page: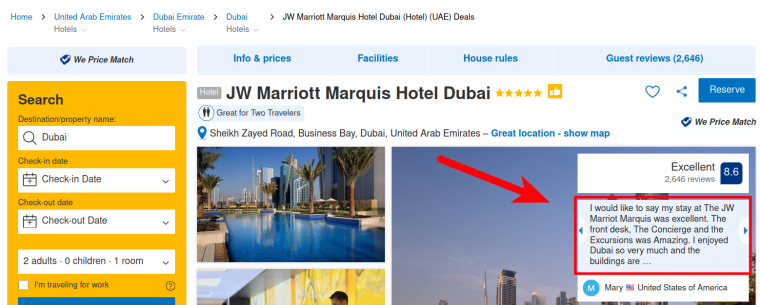 Why use the Booking review scraper?
A fast and simple Booking.com reviews extracting software, this bot can be used for multiple business-related purposes, such as:
Monitoring your competition
Gathering real client feedback
Analyzing and improving your business strategy
This bot automatically puts positive and negative reviews into different columns, thus facilitating your work!
The Booking. com reviews extractor will easily grab the following details:
Hotel URL
Guest name
Guest country
Review title
Review date
Review positives
Review negatives
Review score
Review notes
How to scrape Booking.com hotel reviews?
That's it – the Booking com hotel reviews extraction process has started!
Software walkthrough
1. Open the Launch bot form
Click on the "Start bot" button on the right-hand side of this page to open the spider's form:

2. Enter the details
Give your "Job" a meaningful title, and optionally specify (or create) a project folder:


3. Copy the hotel URL
Open the hotel page on Booking.com and copy the URL:

4. Paste the hotel link
Insert the hotel URL taken from Booking.com into the corresponding field:

5. Set up notifications
Specify if you would like to receive a notification when the grabber is done scraping Booking.com customer reviews:
6. Start the bot!
Click the "Start this bot" button on the right-hand side:

That's it! You will be taken to your "Jobs" section. The software is now working and will notify you once it has retrieved all the relevant www Booking com reviews.
Data output
After the bot completes the job you can download the extracted hotel Booking reviews as an Excel (XLSX), CSV or JSON file.