In short: This online tool will find email addresses from a domain name that you specify.
Click to view the example data output file for a better idea of the output.
Emails are collected from a variety of public sources, thus the bot has a high chance of returning the mail if it had been mentioned anywhere on the web at least once.
Video tutorial
Watch the video walkthrough that explains how the email finder by domain works:
How to find email address by domain name?
This superfast and simple company email domain finder can be used for multiple business-related purposes.
The bot will return the following details:
Domain you entered
A list of emails if the bot finds anything
Up to 5 pages where this email is mentioned
How to use the email finder by domain?
Sign up on Botster
Go to the bot's start page
Enter the domains. Each query must go on a new line.
Do not use WWW in your links.
Click the "Start this bot" button.
That's it – the bot has started working and will soon find all email addresses for a domain you've specified!
Software walkthrough
1. Open the Launch bot form.
Click on the "Start bot" button on the right-hand side of this page to launch the email lookup by domain online:

2. Enter the details.
Give your "Job" a meaningful title, and optionally specify (or create) a project folder:

3. Paste the domains.
Each domain name must go on a new line.

4. Set up notifications.
Specify if you would like to receive a notification when the grabber completes the crawl: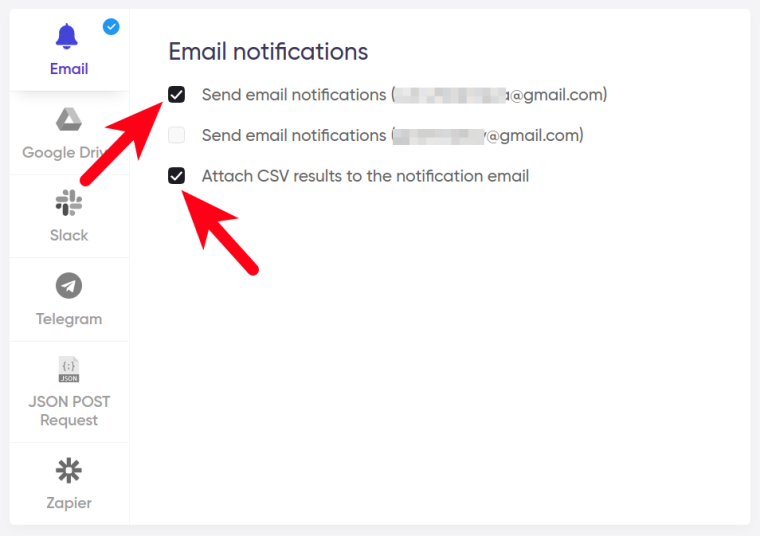 5. Start the bot!
Click the "Start this bot" button on the right-hand side:

That's it! You will be taken to your "Jobs" section. The domain email extractor is now working and will notify you once it's done.
Troubleshooting
We are using 100% public data when scanning the web for these emails. We take no responsibility for the validity of the results, e.g. results can be:
Incorrect
Incomplete
Out of date
We do provide links that contain (or used to contain) the email addresses. It's up to you to decide if you would like to trust the results the bot returns or not
If the bot returns zero results for a particular domain, the funds for that query will be reimbursed back to your account.
Data output
After the bot has managed to find email addresses from domain and has extracted them into a spreadsheet, you will be able to download your data as an Excel (XLSX), CSV or JSON file.