How to Choose the Best Amazon Product Scraper?
Published on October 04, 2021
by Botster
---
The devil is in the details. Any e-commerce entrepreneur knows that DATA is key to getting ahead of the game. This is especially true if you're thinking of launching an Amazon product or store. One vital thing to use is Amazon scraper software. Such a tool would help you gain important insight as to what works for your niche, product, or service.
However, there are so many different tools out there that choosing the right one can be an absolute nightmare.
But don't worry. By the end of this article, you will KNOW what type of Amazon product scraper is best to use for your business. Download the ultimate checklist allowing you to compare different types of software and to choose the one that suits you best!
Read on to discover:
what 'Amazon product scraping' means;
what you should consider in an Amazon scraper;
how to scrape Amazon products;
what is the best product scraper to use.
Once you've chosen a decent product scraper, you'll be able to download Amazon product database and choose what to sell on Amazon to make money. And now let's start our Amazon scraping journey!
---
What Is Amazon and What Does Scraping Products from Amazon Mean?
Do I really need to tell you what Amazon is and why it matters today?
Ugh, ok. I'll give you the brief version.
Amazon is an online-based establishment that sells everything from baby clothes to computers. It's considered the world's largest online retailer.
Anyone who wants to buy something online pretty much uses Amazon. So if you're thinking of selling anything online, then it's a smart move to have a presence in it.
What Does "Scraping Products From Amazon" Mean?
It's not enough to just be present on Amazon. You need people to find you. And for people to find you, certain keywords or phrases should be used to describe your product so that you're shown ahead of competitors (or at least along with them).
In addition to being found, you also need to convince people to choose your business over others. For this to happen, you need valuable marketing insight on competitors.
Scraping products from Amazon thus means EXTRACTING valuable product information (usually from competitors) so that you don't have to reinvent the wheel when it comes to successfully positioning your product in the Amazon marketplace.
What kind of product information? Well…
Their prices, product descriptions, and keyword-rich titles, to name a few.
For example, say you're able to download Amazon product database sets for any specific niche. Such a detailed market research report can mean the difference between a mediocre and a successful product launch.
Who Needs to Do an Amazon Product Dataset Download?
Anyone who wants to do business using Amazon would benefit from using an Amazon product scraper. For example:
You want to know your top competitors for a specific keyword or set of keywords.
You want to know what words or phrases top competitors are using to market their products.
You want to find out how competitors are pricing their products.
You want to do some quality Amazon SEO for your company.
If you already have an Amazon business – export Amazon products info from your store and find out which items are doing better than others so you can react accordingly.
22 Things to Consider When Selecting the Best Amazon Product Scraper

Question: Why is it important to choose a good scraper?

Answer: You want the best market data you can get your hands on.
If you have the right market information, you'll save yourself a lot of time and money. No guesswork! Find out what sells and simply model that success.
This is why selecting the best Amazon scraper is important, and the following are the points you should consider.
---
1. Can you try the software for free?
Look for an Amazon scraping service that offers a free trial. This way, you know if the information that's been scraped is what you're looking for and if it's truly valuable.
For example, try the Amazon Search Extractor by Botster. Unlike other tools, the free version gives users FULL-FEATURE access.
This means the information scraped is not limited to just a few data points. You will be able to see all the information you need and download Amazon products in CSV – for free!
---
2. Is the Amazon product scraper an online tool?
There are three different types of scraping software:
Desktop applications. A desktop app is software you can download and install on your computer. It usually serves to accomplish specific tasks. Note though that it takes up computer space and needs to be updated regularly.
Browser extensions. A browser extension is software that is installed directly on your web browser (e.g., Safari, Internet Explorer, Google Chrome, Mozilla Firefox). It doesn't take up computer space but you may still have to install updates every now and then. Also, note that if you use more than one web browser, then you need to install the browser extension in each one of them. Further, some extensions are only compatible with specific browsers. That is, what is usable in Firefox, may not work at all with Google Chrome.
Online tools. An online tool is software that is available for use via a website. Access to the tool means registering for an account on the website. Once logged in, you can then use the software to scrape or extract information online using your account. Online tools are more advantageous to use since they don't need to be downloaded and installed (unlike desktop apps). They don't need regular updates, too. Online apps are also compatible with any web browser (unlike browser extensions). All you need is a computer with internet access.
The Amazon Search Extractor is such an online tool. All you need to do is go to Botster and click the 'Create a free account' button. The registration process takes just a few seconds!
---
3. Does launching this software take just a couple of minutes?
We get it. Time is money. The sooner you get your market insights, the better!
The Amazon Search Extractor is easy to use and you'll be surprised at just how fast you can fill out the intuitive data fields. You can download Amazon product database sets in just a few minutes.
---
4. Does this software have a comprehensive video tutorial?
A good Amazon scraper extracts a lot of data so there may be a learning curve involved when using the tool for the first time. As such, it's important that the service you're considering has a detailed and easy-to-understand video tutorial.
The Amazon Product Scraper by Botster has an easy-to-follow video here:
---
5. Does this Amazon product scraper software offer a pay-as-you-go system?
Pay-as-you-go means that you only pay IF you're planning to use the software.
In general, there are three (3) payment systems used by software providers:
One-time payments. This payment system is often used by desktop software providers, and often covers ONE user, for ONE year's worth of usage. This is ok if you only intend to use the Amazon scraper tool for a limited time and only on one device. However, note that sometimes 'software updates' are not covered (i.e., you need to pay a fee to upgrade) and if you want to delegate, then you probably need to purchase an extra license just to install the software on another machine for someone else to use.
Subscription-based systems. With this payment model, you're charged a fixed yearly or monthly fee. (Opting for an annual subscription is usually cheaper.) This is convenient as you don't need to think about paying on time all the time, risking disruption of service. However, it comes out as a more expensive option if you don't use the software often.
Pay-as-you-go. Scraping software that offers users a pay-as-you-go model can be most advantageous for your business:
You save by paying only WHEN you need to use the scraping software.
You increase payment amount accuracy by spending only exactly what you owe the scraping service provider.
You can manage your cash flow more effectively by having better control of your weekly/monthly/yearly expenses.
The Amazon Search Extractor has a cost-effective pay-as-you-go system. There are no plans or subscriptions to choose. You just pay for actual usage.
---
6. Can this software extract a list of products from Amazon based on search keywords?
Check if the Amazon product scraper tool can use search keywords as input. This is important to consider because sometimes, you don't know who your top competitors are in a given niche.
Also being able to use search keywords as input can reveal keyword variations or related phrases that you haven't even thought about – but your competitors have!
The Amazon Search Extractor has a separate field dedicated to keyword input. All you have to do is type the keywords or key phrases related to the Amazon product you want to research, and the software will extract all the relevant data you need.

---
7. Can this software return many different products if you insert just one keyword?
You need to ensure that the scraping tool you're considering does more than extract just ONE product for any given keyword or key phrase you type. The point is to get as much market insight as you can so the tool that is able to extract multiple products from just one keyword or key phrase input from you is the best.
---
8. Can this software process data based on your preferred geolocation?
Some tools may offer plenty of information but limit results only to a specific country. This is especially true for 'free tools' so keep that in mind during your search.
As mentioned above, the free version of the Amazon Search Extractor offers FULL-FEATURE access so you can select any location you want for your Amazon product database download.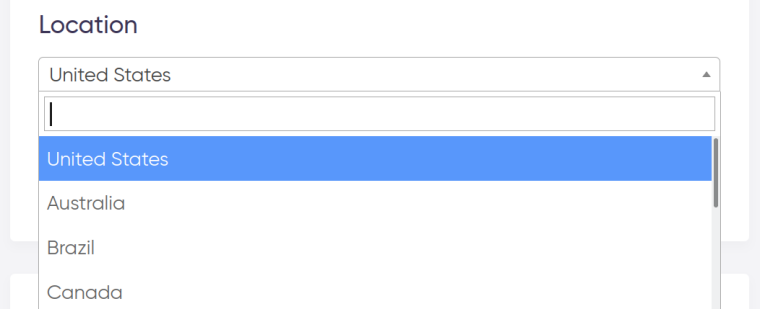 ---
9. Can the software deliver the results within 5 minutes?
Run a few extraction software tools to check how fast they return results. If you're able to export Amazon products to CSV in under 5 minutes, it's a winner!
This is a sample report from Amazon Search Extractor by Botster. Note how fast the report was completed: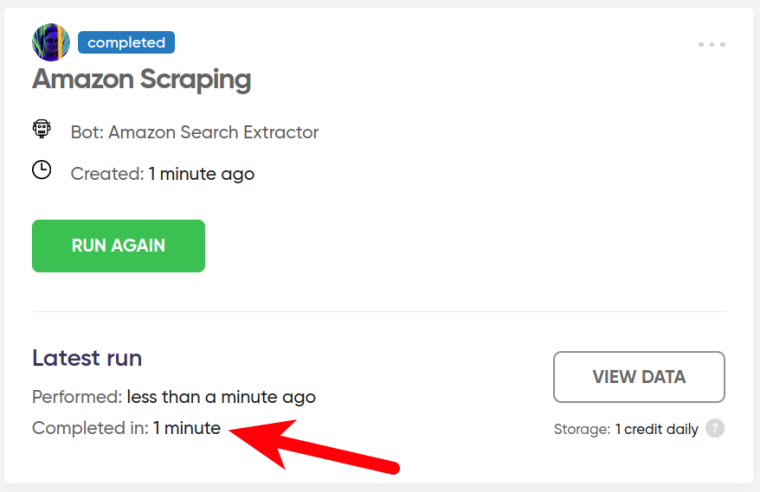 ---
10. Is the Amazon scraper software capable of sending notifications when the job is completed? If so, which channels are available?
You are a busy person. So sometimes all you want to do is start an Amazon product extraction job and just be alerted when the report is done.
So check if the product scraping service is capable of alerting you via the system you find most convenient. Usually, this means the service can send push notifications via email, Telegram, Slack, Messenger, or WhatsApp.
The Amazon Search Extractor is capable of notifying you ASAP via various channels, including sending a JSON POST request, which is a type of URL notification that allows for further automatic processing. (Your web administrator should be able to set this up for you.)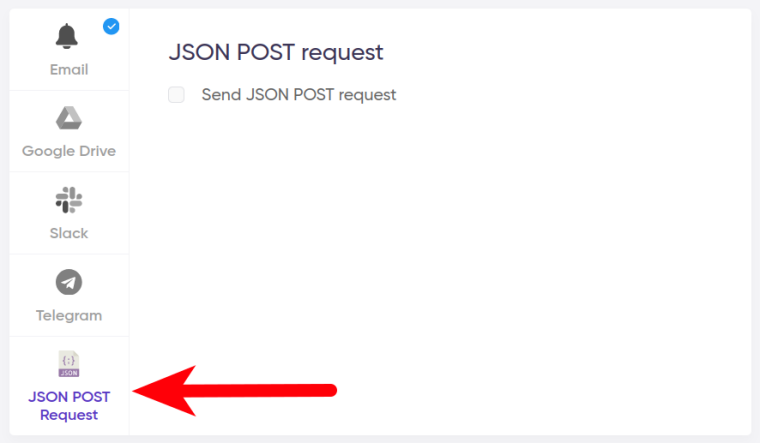 ---
11. Is the Amazon product catalog download available as a table? If so, which formats are available?
Scraped data is convenient to view, filter, and analyze in a table format so check that you're able to download the scraped product information in various table formats.
Note that the five most convenient table formats are:
Comma-Separated Values (CSV)
Microsoft Excel
JSON
HTML table (online)
Google Spreadsheet
---
12. Can this software extract Amazon product titles?
The product title is an important aspect when listing Amazon products. Amazon has a whole list of requirements and tips to ensure you describe your product the best way possible. This is why it's important that the Amazon scraper tool you use extracts this information.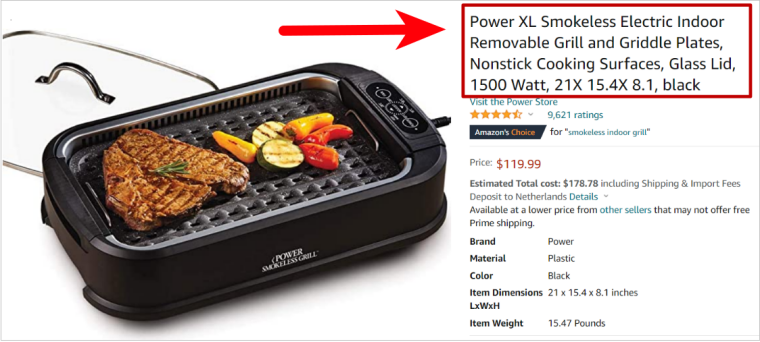 ---
13. Can this software extract Amazon product URLs?
A product URL is the link path of the product in Amazon. If you go to this link, it should take you directly to that specific product's listing.
The product URL offers good marketing insight as it can tell you keywords used by the merchant, and other product-related info.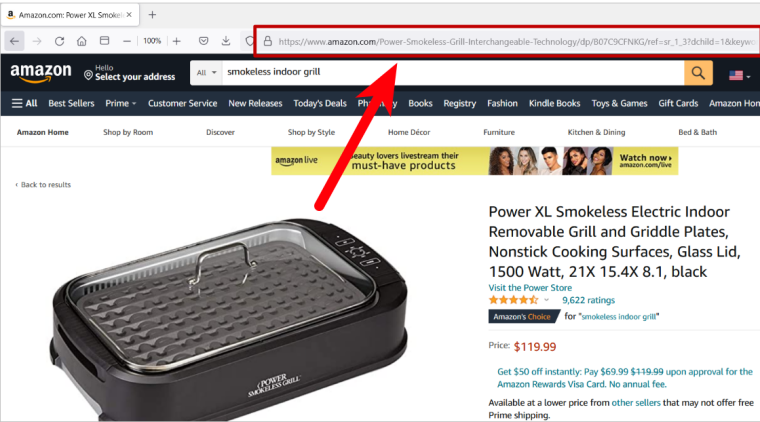 ---
14. Can this software extract product prices?
You want to know how your competitors are pricing their products, right?
Here's where you can see the product price on Amazon: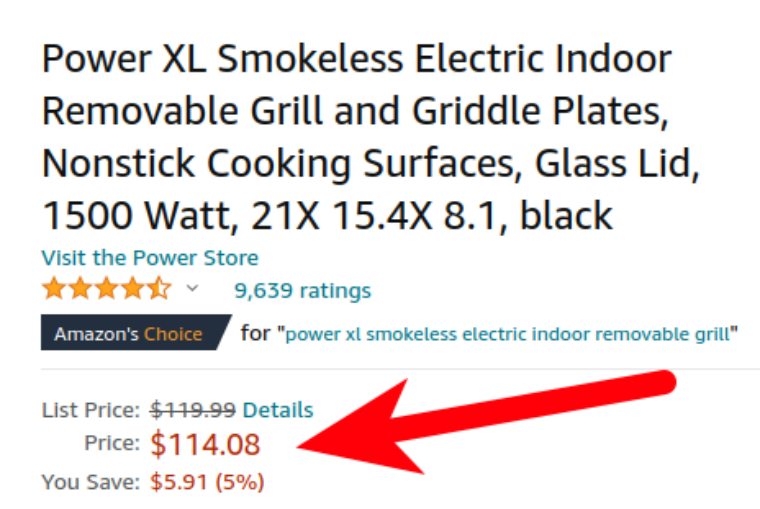 Competitors' product prices are extremely important for business owners and must be returned by the software of your choice together with all other results.
---
15. Can this software extract currency?
The currency shown in Amazon depends on your geolocation, or to be specific, the location defined on your web browser. That's why it's important that the Amazon product scraper enables you to select a specific geo-location.
For example, if you live in Germany, the scraping tool should give you the option to conduct a product search for items in the US.
You can see currency information on Amazon at the very bottom of the product page:

---
16. Can this software extract ASIN?
ASIN is short for Amazon Standard Identification Number. It's a 10-digit alphanumeric code that distinguishes products on Amazon. When analyzing the data returned by the Amazon product scraper of your choice, knowing a product's ASIN allows you to find it fast. You can view a product's ASIN by going to that item's Product information section.
Here's where you can see ASIN information on Amazon: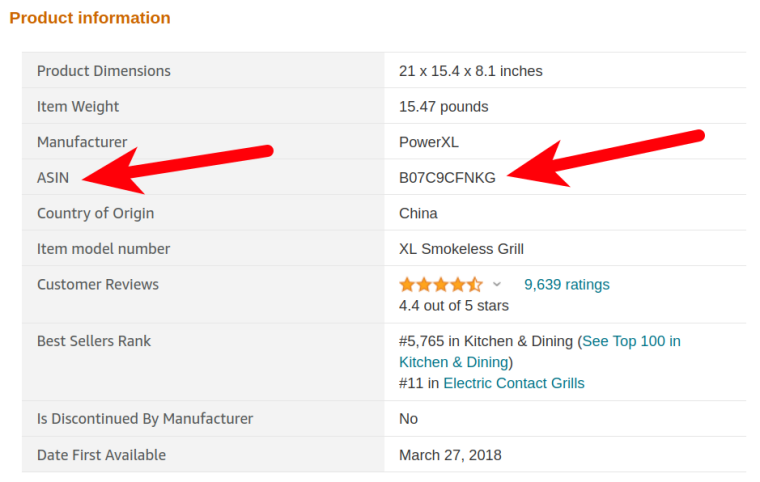 ---
17. Can this software extract the product's rating value?
The Amazon rating value is a 5-star rating system that tells you just how much previous buyers rate the product. As a business owner, you may be interested in the products with the highest rank.
On Amazon, you can see it immediately below the product title. You can also see this in the item's Product information section:

---
18. Can this software extract the product's vote count?
The votes count is the number of people who rated the product. The higher this value – the broader the customer audience of this particular product.
Here's where you can see the product vote count on Amazon: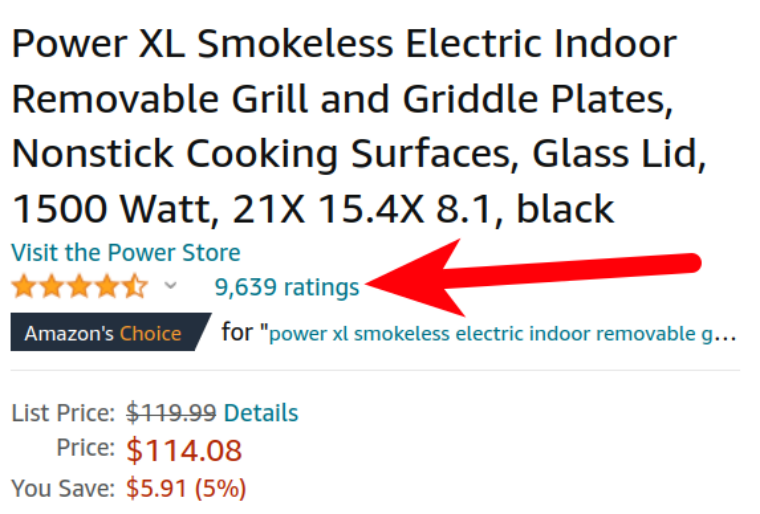 ---
19. Can this software extract bestseller information about the product?
The Amazon Best Sellers Rank or BSR informs you if a product is selling well on Amazon. Basically, the higher the BSR value, the higher its sales volume. This is why knowing this parameter is so important for business owners.
On Amazon, you can see the BSR information on the Product information section of that item: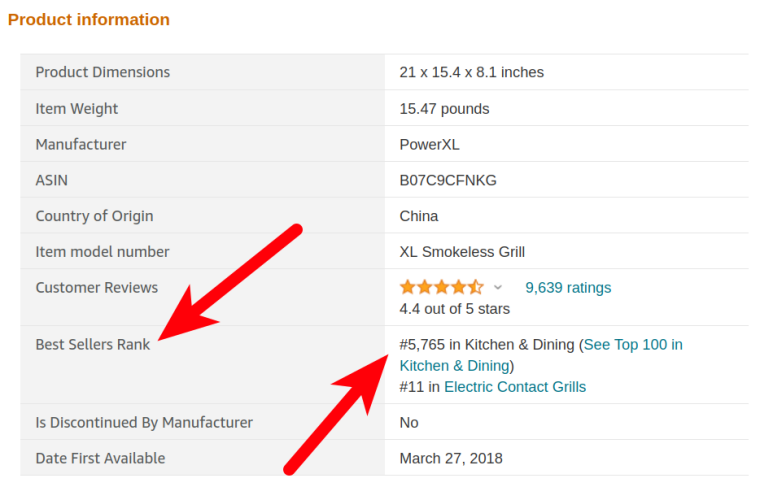 ---
20. Can this software extract Amazon choice information about the product?
Amazon's Choice is Amazon's way of showing highly-rated products in its catalog. Business owners usually want to know it when building their assortment.
Here's where you can see Amazon choice information on Amazon: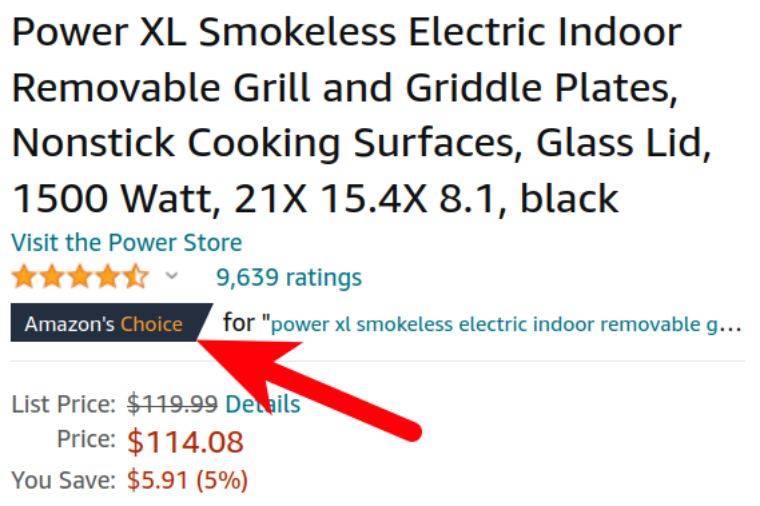 ---
21. Can this software extract the product's rank in a product group?
It's important to know just how high (or low) an item is ranking in a specific product group. The higher the rank, the better. As such, it's best to focus on these products and see why they're positioned higher than others.
A product's ranking in a product group can be seen in the Product information section of that item.
In the example below, the product is ranked #11 in the product group Electric Contact Grills: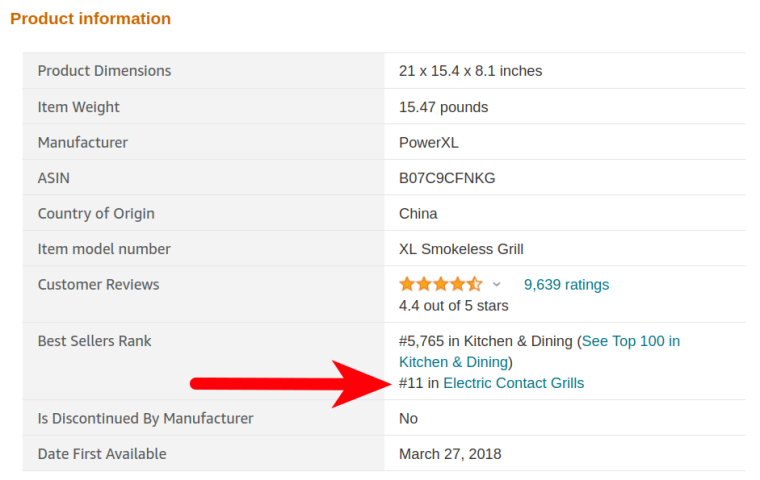 ---
22. Can this software extract the product's absolute rank?
A product's absolute rank is its position in one of Amazon's main categories.
The product absolute rank can be seen on the Product information section of that item. In the example below, the item's absolute rank in the main category Kitchen & Dining is #5,765: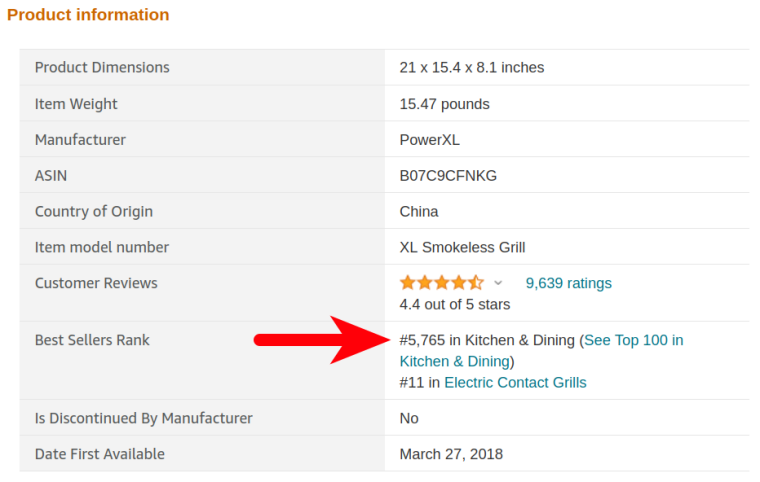 Do you want to see ALL the items above covered in a sample Amazon product database download? Click here!
---
Amazon Product Scraper – Checklist Guide
Here's a quick checklist of all the items we covered above. Use this and you'll end up with the tool that gives you the best chance of success with your Amazon business.
In the interest of fairness, we also checked out an Amazon scraper desktop app and web extension tool.
However, you'll soon see that an online tool such as the Amazon Search Extractor by Botster is the best way to go as it meets all the criteria we discussed in this article.