How to Extract Data from Google Maps to Excel: Free Guide
Published on August 04, 2023
by Botster
---
When Google Maps was launched back in 2005, we had no idea we would later on use it for research. Neither did we know that we would be able to export a Google Maps list to Excel. But guess what, here we are.
Without putting in much effort, I can make a list of things you can do with the data you export from Google Map to Excel:
Competitive research to find your immediate competitors
Feasibility study to see if a proposed location is good for your business
Prospecting activities to find contact details of businesses you can collaborate with
The list goes on and on.
And I didn't mention that you can extract user reviews on a business to analyze them to find ways to improve your product or services.
So, in this guide, I'm going to show you:
How to export Google Maps data to Excel by keyword
How to extract business data from Google Maps by radius
How to export user reviews from Google Maps to Excel for competitor research

After all that, I'll also show you some Microsoft Excel functions that you can use to filter and make better use of your Google Maps results to Excel.
Honestly, knowing how to export Google Map data to Excel is only the beginning. There's so much you can do with that data.
And it even gets better.
You don't have to spend hours copying and pasting that data manually into Excel. You can simply leverage fast automation software to extract data from Google Maps for Excel in bulk!
And when I say bulk, I mean BULK!
And that brings us to the essence of this guide: showing you how to export Google Maps to Excel spreadsheet.
Quickly, before I go into the actual tutorial, what are some reasons why people may need to extract bulk data from Google Maps to Excel?
Business Analysis: Businesses often need location data for market research, competitive analysis, and identifying potential areas for expansion.
Lead Generation: Companies may use Google Maps to find potential leads, such as businesses, restaurants, or service providers. Bulk-extracting contact information and other relevant data from Google Maps can be a time-efficient way to build a database of potential clients.
Logistics and Route Planning: Transportation and logistics companies, especially drone delivery providers, may use Google Maps data to plan efficient routes, optimize delivery schedules, and estimate travel times. Exporting the data to Excel allows them to integrate it with other logistics software.
So now, pretending I work at a computer hardware dealership in Atlanta looking to grow its database of potential clients, I will extract data for accounting firms that could be our potential clients.
Are you ready to export Google Map data to Excel? Well, let's get the ball rolling!
---
3 ways to view data from Google Maps in Excel
How to export data from Google Maps to Excel BY KEYWORD
The first tool I'll be introducing in this guide is the Google Maps Scraper. This is an automation bot that can help you search for companies based on your keywords and extract their information in BULK in a matter of seconds.
Google Maps is a branch of the Google search engine that can help to find places and actual locations. The Google Maps Scraper now can help export Google Maps search results to Excel with little effort from you.
The best thing about this tool is that it lets you select a location for your search. And since the imaginary computer hardware dealership I'm representing is in Atlanta, I'll be looking for businesses in the same city as us.
To gain access to this tool and be able to get Google Maps - Excel data in BULK, you must first open an account on Botster:
Registration is fast, easy, and credit card is not required.
Once you've opened your Botster account and verified your email address, open the Google Maps Scraper's start page by clicking on "Start Bot":

Name your job (e.g. Accounting firm Google Map-Excel) and enter a project folder name if needed: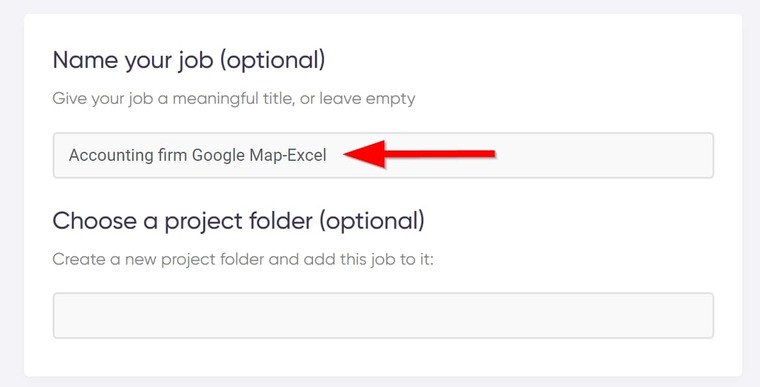 Enter your keywords, including your target location.
If you have multiple keywords, each one must be on a new line:
You can use ZIP codes as well if you wish to target specific locations. Like the keywords, each one goes on a different line: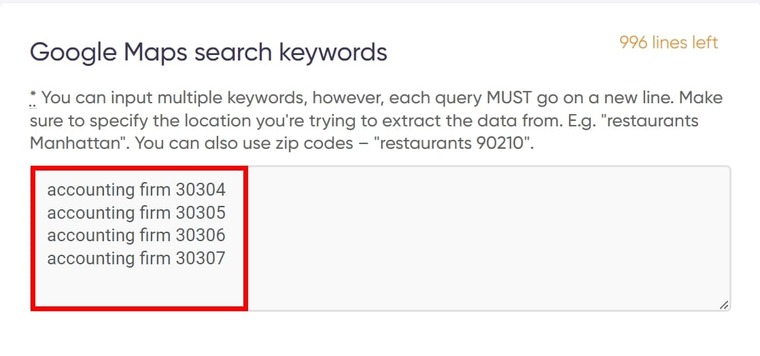 Select the number of places you'd like to extract: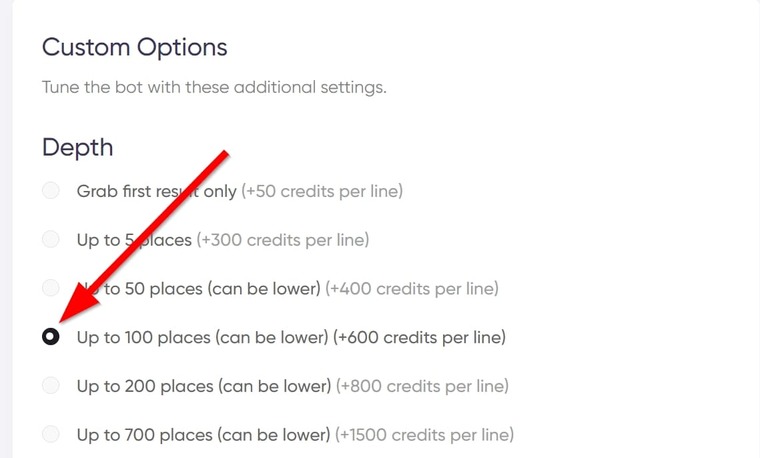 Select 'your' location on the map.
Your location affects the results of your search. Best if it's the same as your target location: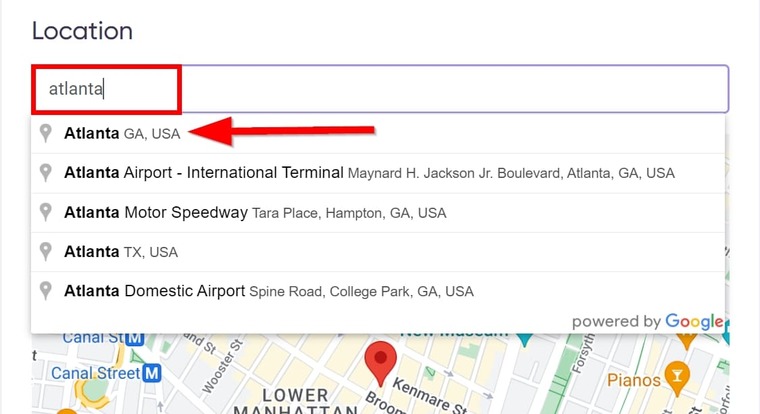 Select how you'd like to receive your results: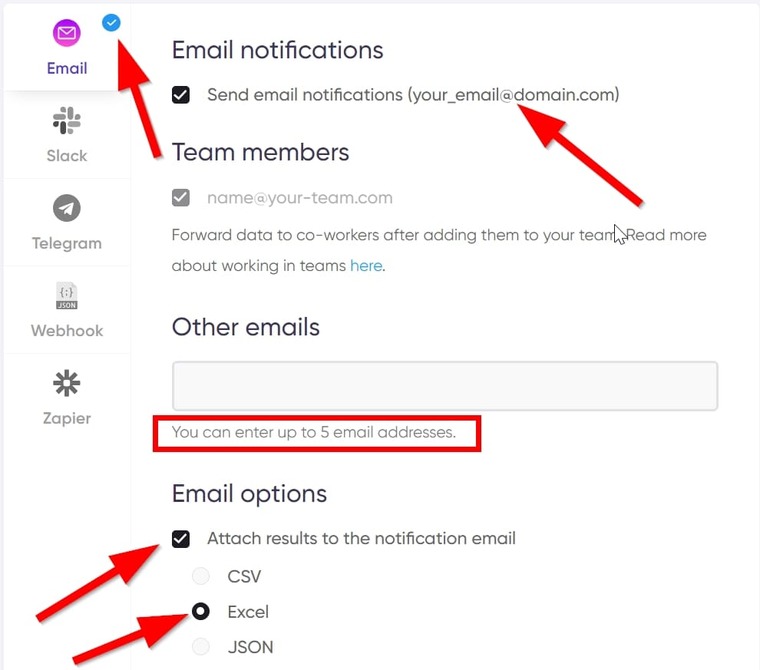 The "My Jobs" page will launch automatically, and you will see the bot running:

Once it shows "Completed", you'll receive your Google Maps-Excel spreadsheet in your email address: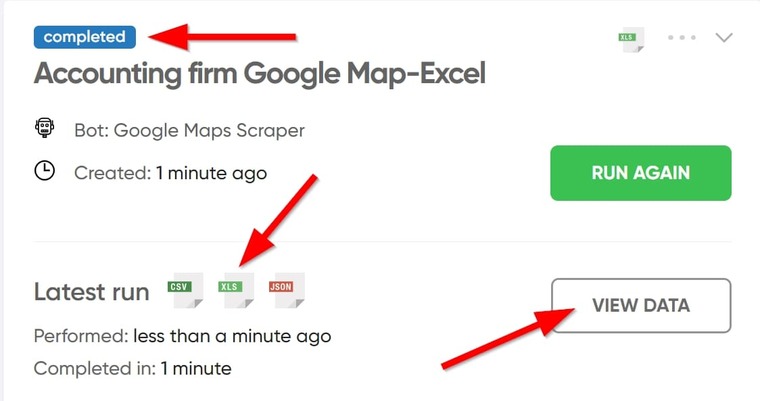 You can also click on "View data" to see the results online or click on the spreadsheet logo to download the results immediately.
---
Video tutorial
Also, I made a quick walkthrough video for this Excel-Google Maps automation tool a while back. So if you'd rather watch me go through these steps, here you go:
---
Results
The Google Maps Scraper extracts a ton of valuable information on whichever company happens to be among the results it fetched. Here's a snapshot of the result page for the previous search:

There's still a ton of info in the Excel file that has been filtered from the shot above, and I really can't even begin to talk about them all.
With that said, if you'd like to enjoy the benefits of having a leads database, my guide titled Creating a Low-Cost B2B Sales Lead Database for Your Business is a must-read for you. In that guide, I walked through the process of creating leads databases of phone numbers and email addresses of businesses. You should check it out.
---
How to extract data from Google Maps to Excel BY RADIUS
The next method I'll be showing you on how to export Google Maps to Excel is a bit different from the one above.
In the data extracted above, I set the tool to extract information for accounting firms in Atlanta. But what if I want to extract details for only those within a specified radius of my location? You know, somewhere I could drive to and render my sales pitch in person ASAP.
For that, we'll be using the Google Maps by Radius Finder to export Google Maps search results to Excel.
This will only take a moment. Let's go.
Each keyword must go on a new line: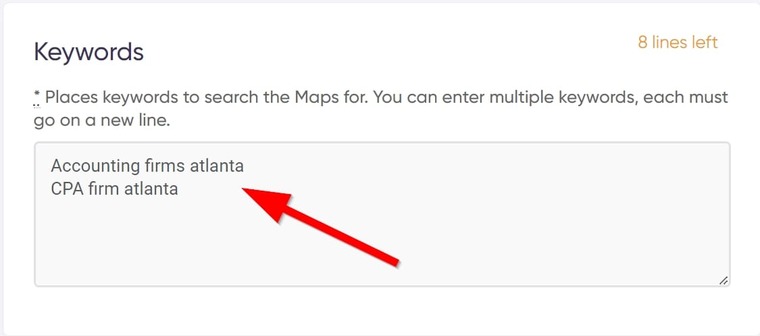 Next, set the radius you want: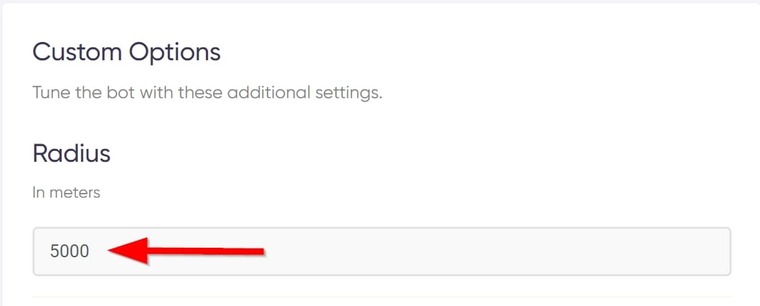 Tip: I like to factor in driving time and speed limits while setting radius. For instance, at 30 m/hr, it takes about 6 or 7 minutes to travel 5 km or 5,000 meters.
Next up, select your location.
This will be the starting point for your radius. Feel free to use a closeby landmark: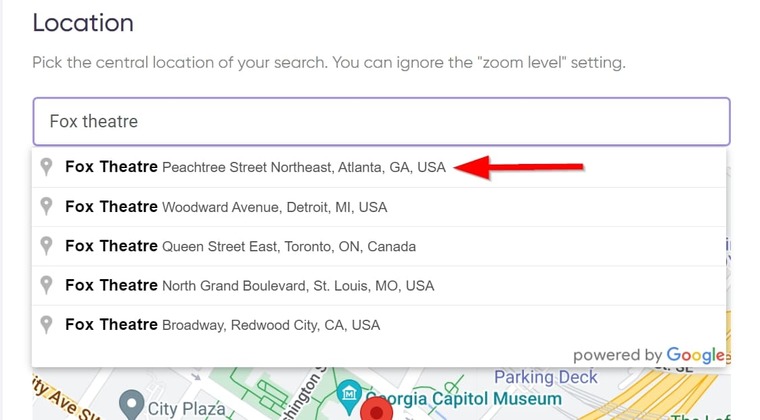 Finally, click on "Start this bot" to launch this Excel-Google Map automation bot into action.
---
Video guide
Here, I'm showing how to launch the Google Maps by Radius Finder:
Results
The Google Maps by Radius Finder will extract information for every accounting firm within the radius we've specified. And it does that in less than a minute!
Amazing, isn't it?
You can download your results right away as I showed you earlier, and you'll get something similar to this:

From the snapshot above, you can see that the bot fetches for you all the info you need to locate these businesses. For example, the business_status field lets you know if a business is still operational, and the vicinity field puts you somewhere around its location.
So now you know how to export Google Maps addresses to Excel by radius.
Like the previous tool, this one also generates a ton of information, including longitudes and latitudes. Check out my guide, Building Target Audience for Direct Mail Marketing: A Real Estate Agent's Tool Kit, to learn how to convert them to addresses.
---
Exporting user reviews from Google Maps to Excel
Earlier on, I mentioned that business owners can export user reviews from Google Maps. Doing this can help to better analyze the performance of your competitors and also find ways to improve your offering.
I have another automation tool that can help with that. It's called the Google Review Extractor. When you export Google Map search results to Excel using the Google Review Extractor, you get user reviews for businesses.
Since I've now found potential clients for my imaginary computer hardware store and I intend to reach out to them for business, I want to see user reviews on my competitors.
This does 3 things:
The good reviews will tell me what my competitors did right so I make sure I do those too, probably even better.
The bad reviews tell me the things they did wrong, so I avoid those pitfalls.
I can leverage pain points in bad reviews to make my pitch better.
The first thing I'll do now is to first use the Google Maps Scraper (as described above) on my keywords to find other computer hardware stores.
The Google Maps Scraper extracts the place_id which is needed for further extraction in the Google Review Extractor:

Once you have your competitors' place_id, launch the Google Review Extractor and name your job.
Select your location: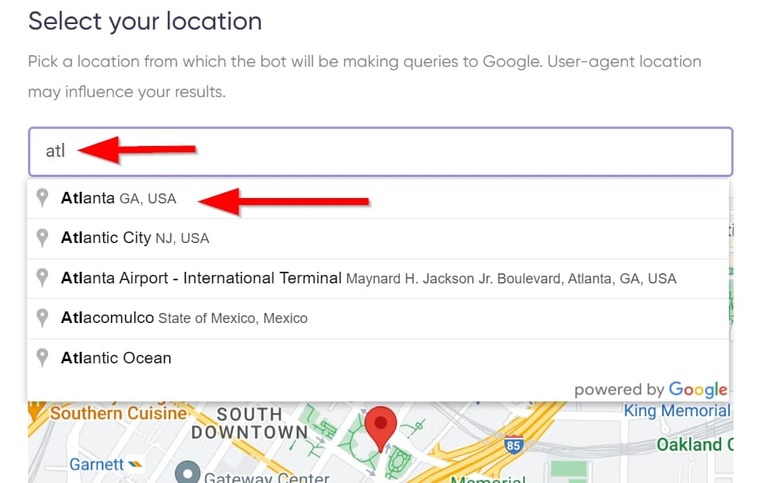 Select how many reviews you want to be extracted: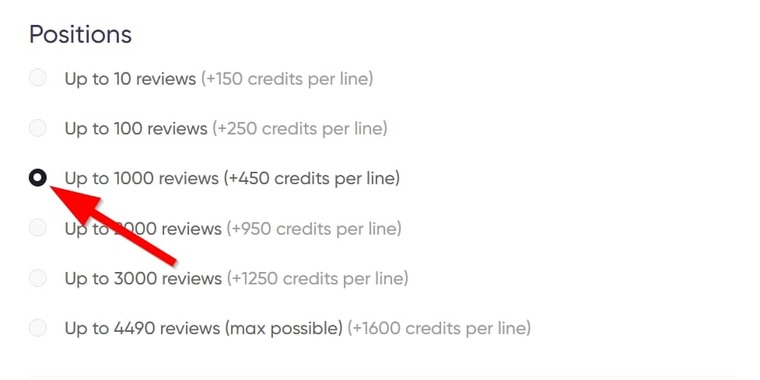 Select how you want the reviews sorted.
Further sorting can also be done within the Excel app.

Next, we need to paste the place_id values into the Google Review Extractor, but each one of them must be preceded by place_id: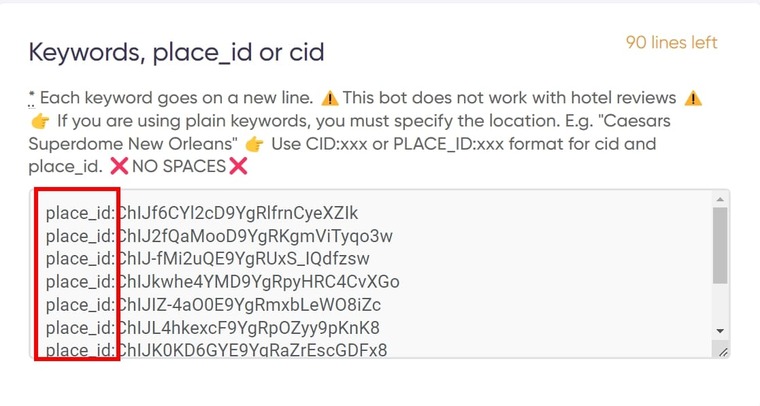 To quickly add place_id to each line, do the following:
✅ Copy the place_ids and paste them into a text editor. I prefer Google Docs. Notice how the first 4 characters (ChIJ) are the same for all of them: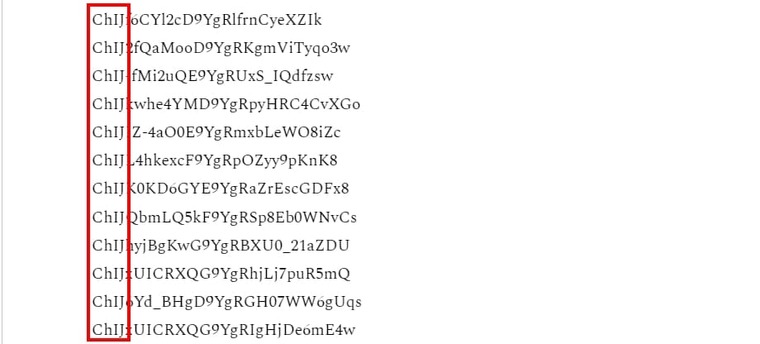 We will use this for "Find and replace".
✅ Launch the "Find and replace" module. Ctrl + H works for Google Docs and MS Word: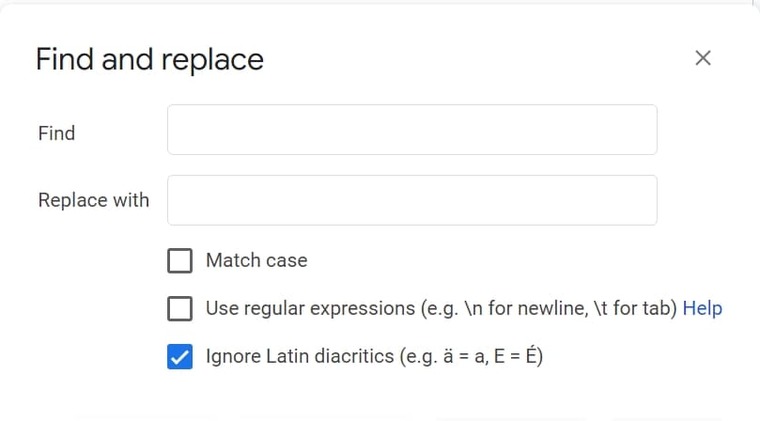 ✅ In the "Find" field, enter ChIJ. And in the "Replace" field, enter place_id:ChIJ. You can copy and paste the one above. It's general for place IDs.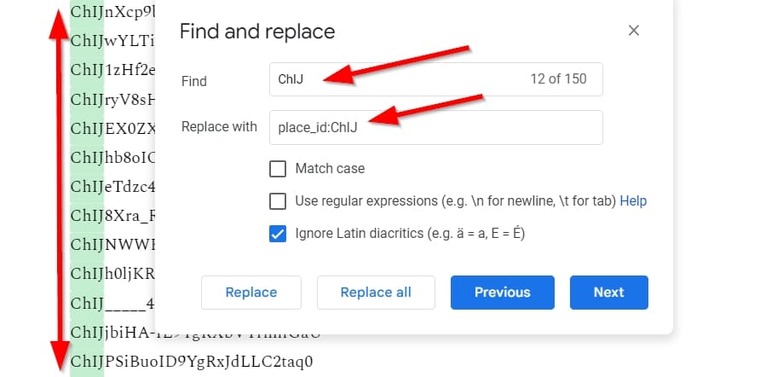 ✅ Click on "Replace All" to effect the change throughout the document: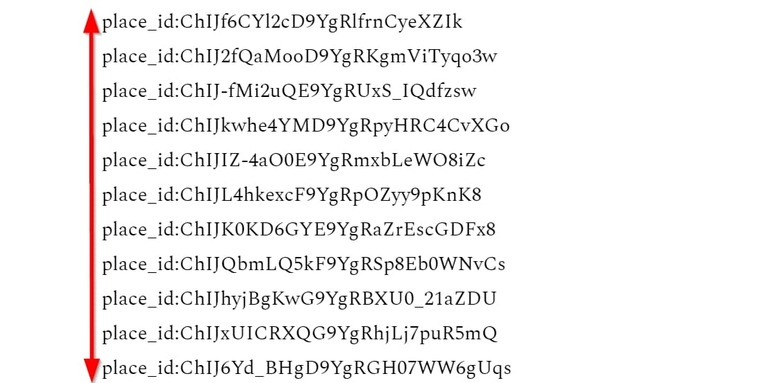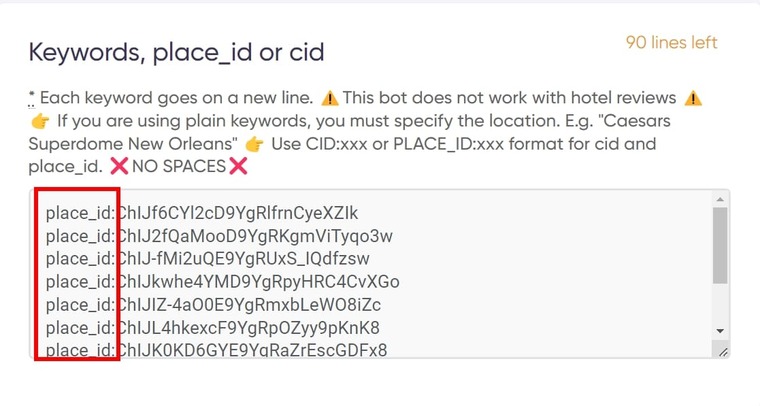 You can also use keywords instead of place_id, but it will have to be the business name plus location: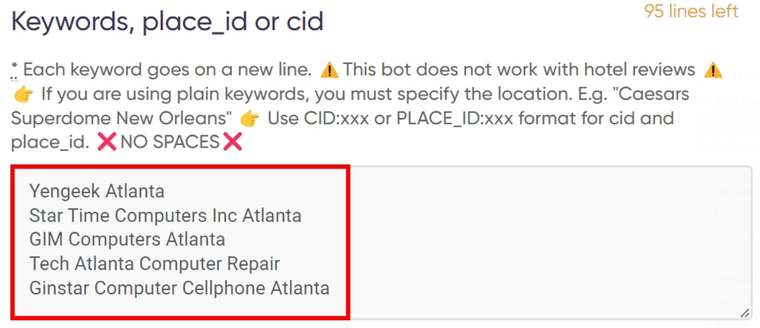 Next, click "Start this bot" to launch the bot into action and that's it! Simple as ABC!
Wait a few seconds for the tool to gather the results and export the Google Maps results to Excel.
---
Video guide
I have pre-recorded a video of myself using this tool to fetch user reviews from Google Maps. I've included it below so you can see how I use it:
---
Results
Once the tool is done with the operation, you can download and view the result with ease:

There's lots of extracted info in the sheet, including the merchant's reply to the user. You can see them all in there.
If you run a hospitality business, you may have noticed that the bot doesn't work with hotel reviews. Well, fret not. Here are 4 Hospitality Automation Tools for Forward-Thinking Profis. A lot is waiting for you in there. So ensure you read it.
Now that you've learned how to export Google Map list to Excel, let's move to the last thing I intend to show you today:
---
Using Excel with Google Maps
Quickly, I'll show you several Excel functions you can use to get the best out of the Google Maps-Excel spreadsheet you've downloaded.
---
Having duplicate data doesn't help anyone. This Excel function can help make sure you only have unique data in your spreadsheets by removing duplicates.
For instance, if you enter two or more synonyms into the Google Maps Scraper, then Google Maps is likely to return duplicates, and they are all extracted by the tool.
In that case, open the spreadsheet, navigate to "Data", and click on "Remove Duplicates" under "Data Tools":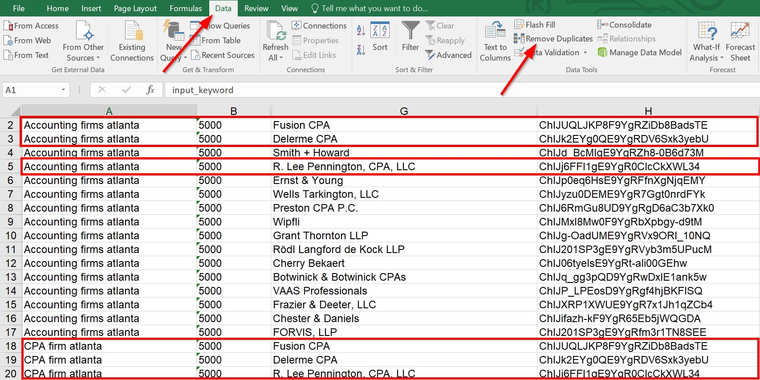 ---
Filter data in a range or table
This function lets you completely filter your results to display only the data you need.
For instance, after extracting data using the Google Maps Scraper, if you only want to see results of a particular area, you can turn on filter features thus: select a column, switch to "Data" in the menu, and turn on filters.
This will activate the little arrow next to the column:

Click on the little arrow to see your filter options: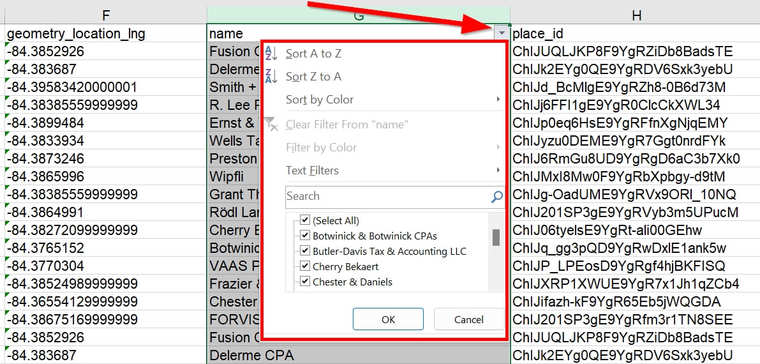 Also, the Google Maps by Radius Finder includes a section called "Price level" for businesses in certain markets. You can filter and show only companies that have a specific price level if your data includes this.
---
The easier to consume any body of data is to sort it into a logical order. This function allows users to sort data by column.
For instance, if you'd like to sort your competitors in alphabetical order, open the document, select a cell under the column, switch to "Data" in the nav bar, and choose the sorting you desire: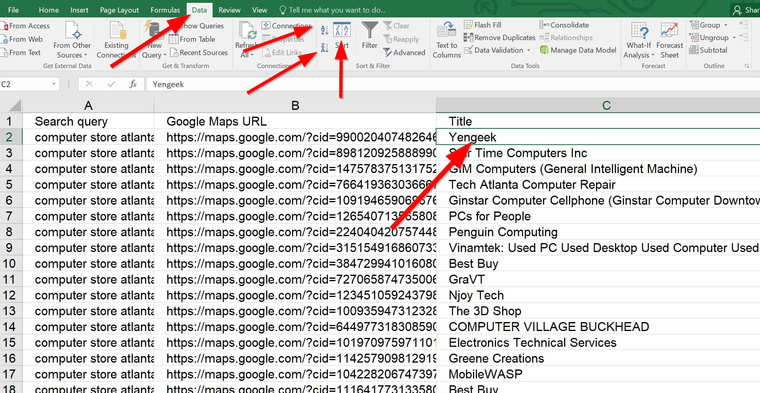 ---
This function lets you see how many characters are in a cell. You can use this on multiple cells to see which is the longest and which is the shortest.
For instance, when you extract reviews using the Google Review Extractor, you can use this function to see which reviews are the longest and, thus, the most informative ones.
To do this, open the spreadsheet and insert a new column next to the review column:

In the new column, select the second cell, enter =LEN(E2) in the formula bar, and press "Enter".
Note: inserting a new cell moved "Review text" from column D to E. So this formula basically says "length in column E cell 2":
Next, select cell D2 and press CTRL+C to copy the formula. Then drag down the box from the edge to select up to the last entry: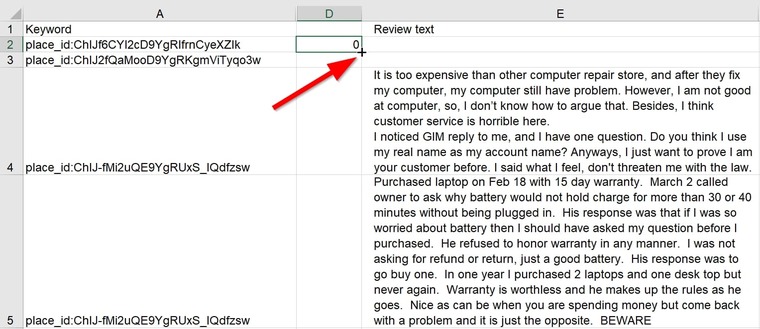 Once you've selected all cells up till the last entry, press ctrl + D to apply the formula to them all and see the word count for each review: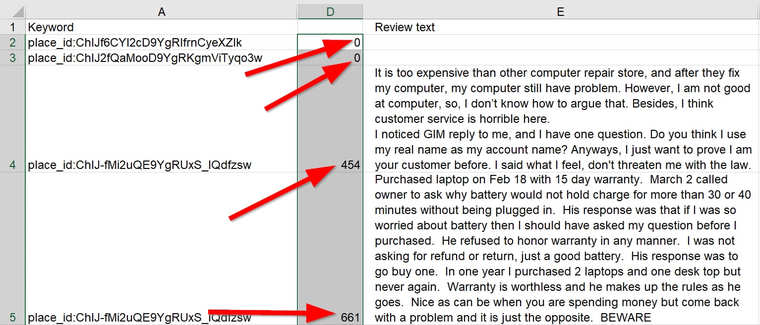 Since we're more concerned with lengthy reviews, you can sort this same column from highest to lowest:

Now that will be all on how to export Google Maps results to Excel. With the automation tools and Excel tips I've shown, I'm quite confident you're now equipped to up your game in business!
---
Google Maps / Excel export: Pricing
I'm quite certain you would have been wondering how much it would cost to access these tools I've mentioned above. Well, I'm glad to let you know that the tools that help you export Google Map to Excel are so affordable, you might actually call them free!
Exporting business details using the Google Maps Scraper costs just $0.60 for 100 businesses on one keyword.
The Google Maps by Radius Finder costs just $0.09 per keyword to fetch a list of businesses within whatever radius you specify.
With the Google Review Extractor, you can get up to 100 reviews from one business for just $0.25. Or you can quickly get a thousand reviews for 10 competitors for just $4.50.
Using the Excel functions I described above is completely free, as long as you have access to Microsoft Excel. And to easily analyze the data you extract from Google Maps, I really recommend using them.
If I were you, I'd quickly open a free Botster account and take advantage of the free trial. And the best part is that you also gain access to plenty of other automation tools on this platform.
Don't delay any further. Get started right away!