Targeting Business Owners Personally: How to Find Emails Addresses of the Right People?
Published on June 17, 2022
by Botster
---
Ever wondered how to perform business email lookup free or at a minimum price? Finding the right people's emails is pretty challenging. But I'm here to help you accept this challenge - and win! 🏆
I've prepared a short step-by-step guide for you based on a real-life example from my own recent experience. I'll show you how I usually find CEO emails and which strategy I follow.
While reading this article, you'll learn:
How to export business emails in bulk
How to find out who is the decision maker in the company
How to single out the decision makers' emails from the general email list
How to validate the emails
And how to automate all these tasks, thus minimizing the time spent on doing them!
Business email lookup troubles
If you do bulk mailing regularly, you must have noticed that sending cold letters to email boxes like info@... and hello@... is a waste of time for many reasons:
Your emails are likely to get filtered and be moved to the spam folder
These email boxes are hardly ever opened
And the most important point: if they are opened, they are 100% never read by the right people.
Who do I mean when I say 'the right people'?
Company founders.
CEOs.
Directors.
In other words, decision makers.
When you send out tons of emails in an attempt to promote your unique product, you'll want them to be read by truly qualified and knowledgeable people, won't you? A mere secretary doesn't count.
The trouble is that decision makers have become such because they are smart and far-sighted. Far-sighted enough to hide their emails from you, my dear. 😉
Don't get upset, though! The world is a global village, and even more so is the Internet. It's an open space where hiding is nearly impossible.
When playing hide-and-seek in the digital world, those who use advanced people email lookup services will be the winners! And the winner takes it all, remember? Now I'll show you how you can take it all.
Emails that should be avoided
Before I get you acquainted with the winners' tools, let's discuss which emails we are actually NOT looking for. Here is the stop list:
⛔ hello@... emails
⛔ info@... emails
⛔ press@... emails
⛔ other no-name emails
⛔ personal emails like ...@gmail.com. It's business, nothing personal!
What we do want to find as a result of our business email lookup are emails that contain names and company domains. Email addresses that look like name@companydomain.com are decision makers' corporate accounts that they use at work.
I'll tell you about the CEO email lookup tools that I used for this purpose. To get access to them, you'll need to create a free account on Botster. This will take you no longer than a minute. A minute spent on registration - hours of time gained through automation! 😀

Now that you've got a Botster account, we are ready to go!
---
Step 1: Finding the relevant websites
If you already have a list of companies to contact and their websites, you can skip this step and proceed to the company email lookup step.
But what if you haven't got one? Then you are in the same situation as I was when I needed to find recruitment companies for bulk mailing, as one of my clients asked me.
First, we'll export company domains using the Google Search Results Scraper. This tool exports Google Search results for a provided list of queries. In particular, it extracts company websites and domains. This feature is useful not only for business email lookup but also for copyright infringement monitoring and for lead generation for insurance or other branches.
I'll show you how to use this and other tools in the example of recruitment companies but the strategy described below applies to any - yes, absolutely any! - business sphere. It will help you find emails of CEOs effectively and in no time!
Open the Google Search Results Scraper's start page and name your job:

Select the region and the language (these parameters influence the results a lot):

Specify how many Google Search results you would like the bot to return (it depends on your needs but my general recommendation is: the more - the better):

Next comes the most important step - inserting your keywords. I've enlisted several synonyms meaning 'recruitment company'.
⚠️ Important: each keyword must go on a new line:

Select how you'd like the bot to notify you once the job is done: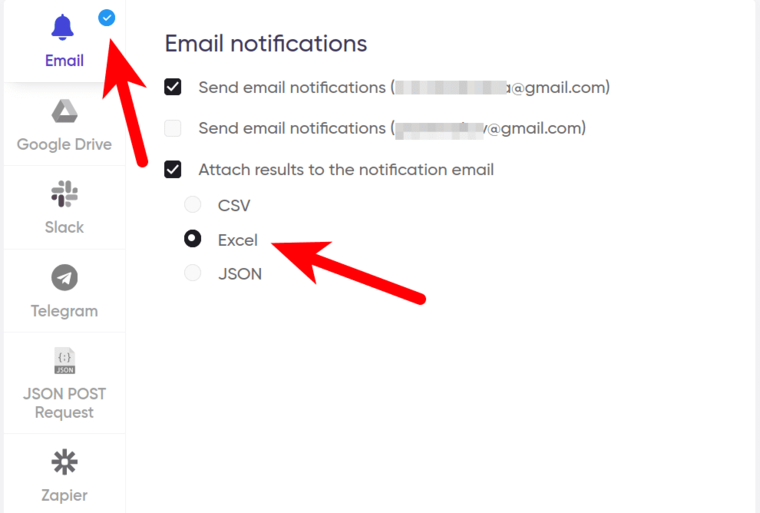 If you love videos, watch my 3-minute tutorial on how to use this bot:
Now let's take a look at the results. The bot has managed to retrieve as many as 300 recruitment companies in just 3 minutes!
To find personal emails of the companies' decision makers, we'll use the 'Domain' column:

We'll just copy this column and paste it into the next bot's input field. No alterations needed!
You might be wondering how much it costs to export 300 companies in 3 minutes. You will be surprised to know that the price is… just 1 cent! 🤑
---
Step 2: CEO email lookup by domain
In the next step, I'll tell you how to find emails for marketing fast and easy!
The decision makers' emails may be published on different pages of the company's website or elsewhere on the Internet. Wherever they are hidden, we will find them! 💪
No, we aren't going to browse all pages of the companies' websites manually. Time to get you acquainted with a domain email lookup tool that will do this automatically and much faster than you!
This tool is called the Company Email Finder. It performs the corporate email lookup online and makes up a list of all emails having the same domain. This bot will look for the emails not only on the company site but everywhere on the Internet (which makes it especially useful not only for the corporate email lookup but also for online sales lead generation for logistics and other business spheres). A real gem for bulk mailers! 💎
So, how to find emails of company employees in bulk?
First, copy the domains retrieved in Step 1:

Now open the Company Email Finder's start page and paste these domains into a special field: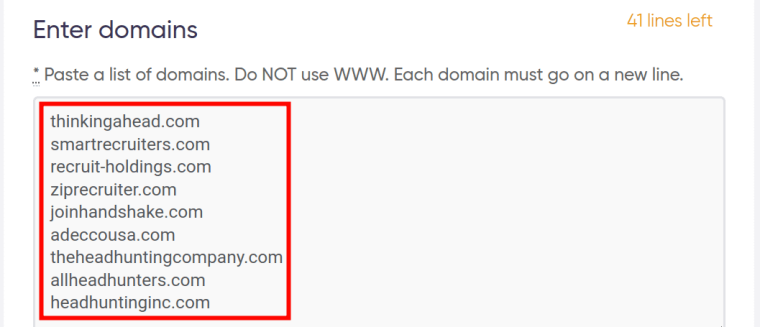 What do you think, how much does it cost to find all email accounts of one company everywhere on the web? It's just 25 cents!

My free time costs much more than that, so I launched the bot without hesitation.
Check my video guide on how to use this tool in practice:
In 2 minutes, the bot retrieved a zillion of emails 🙈 To be brief, I'll show you part of the results for just one recruitment company. It has 35 emails with the same domain (I've hidden the domain for privacy reasons):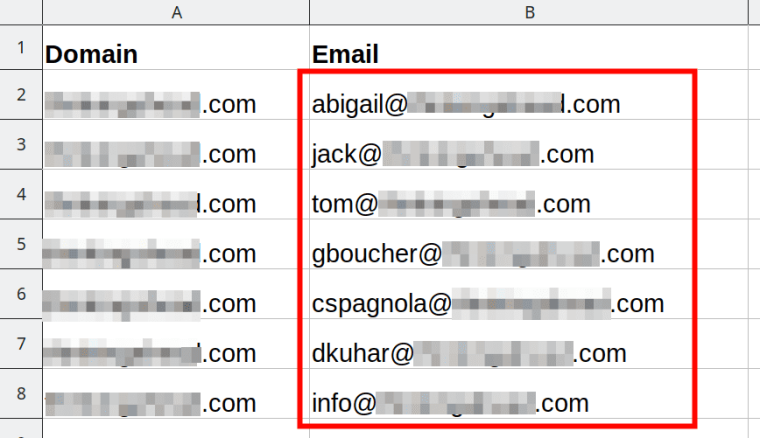 This is our final table. Look how many desired name@companydomain.com emails we have!
🤔 The only problem is: how do I know who is the greatest and most important decision maker in this team? Jack? Tom? Or maybe... Abigail? After all, behind every great man, there is a great woman! 😉
There are two ways to find it out: a manual and an automatic one. I'll describe both.
---
Step 3: Looking for the decision makers…
a) …manually
The manual way consists in opening each website and checking all employees' names without using any email lookup software or service.
If you choose to go this thorny way, the following website pages may be helpful:
About us
Our team
Who we are
Leadership, etc.

On these pages, you will find the names of the company's decision makers. To find professional emails of these people, match their names with the names contained in the table with the email addresses retrieved in Step 2.
For example, if the CEO's name is Jack Smith, his email will be jack@... . And if it's Abigail Moore who leads the company, hers will be abigail@... .
In my example, the recruitment company's leader is its president Greg Boucher. His email is hidden very well on the site but the Company Email Finder has managed to find it! 😛 (No offense meant, Mr Boucher. I'm joking 🙂)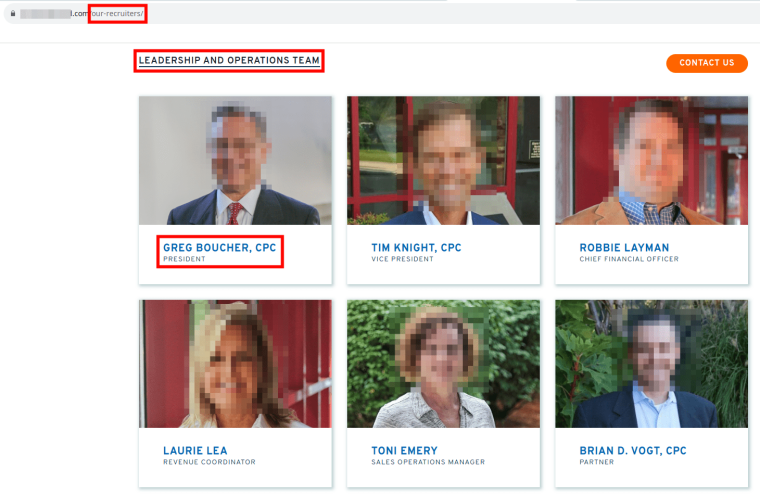 Now it's very easy to select just one right email from the list retrieved by the Company Email Finder: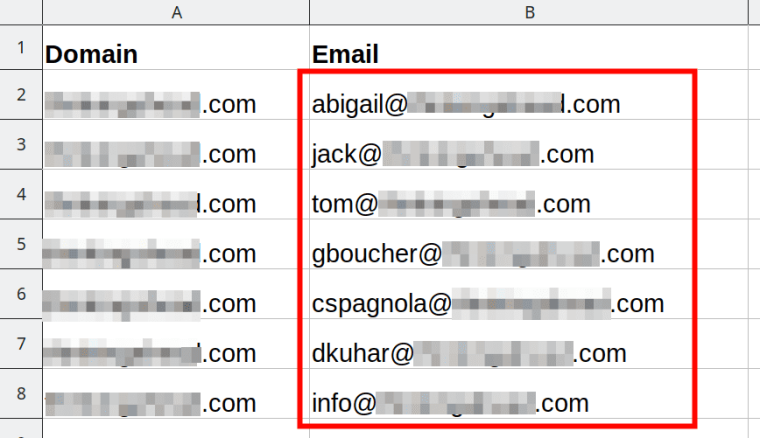 ---
b) …automatically (variant 1)
Yet there is another method to achieve the same result but faster. Using a combination of two smart email lookup services is the right way for automation fans like you and me! ✌️
Read how I do this below.
Exporting companies' LinkedIn profile URLs
We all know that LinkedIn users can tag their company's LinkedIn profile to show which company they work for. CEOs, business founders and company presidents always do so! And this is exactly what is going to help us win the hide-and-seek game.
To quickly get to know who is who in a company, we'll check this on LinkedIn with the help of a special email lookup service combination.
At first, we'll need to find the companies' LinkedIn profile URLs. This is exactly what the Linkedin Company Finder was created for. It exports links to the companies' LinkedIn pages by company name or by domain.
I already have a list of recruitment companies' domains exported in Step 1, so why not use this list once again!
So I copied the domains from the 'Domain' column once again:

Then opened the LinkedIn Company Finder's start page and just pasted these domains into a special field: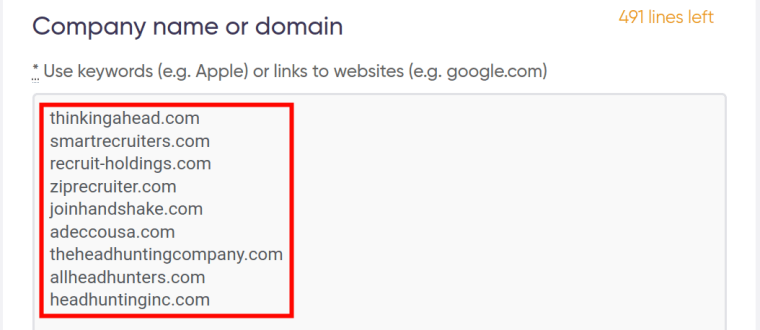 Finding the LinkedIn profile URL of one company costs 5 cents:
Watch me explain how this bot works in a short video:
As a result, I received a list of all these companies' LinkedIn profile URLs retrieved in just 1 minute:
Yes, I could have found all these links manually but… I have more interesting things to do instead of thoughtless clicking and copy-pasting! And you? 😌
Exporting the companies' employees list
You don't need to save the list retrieved by the Linkedin Company Finder - just copy the companies' LinkedIn profile URLs retrieved and paste them into a special field on the LinkedIn Employee Scraper's start page: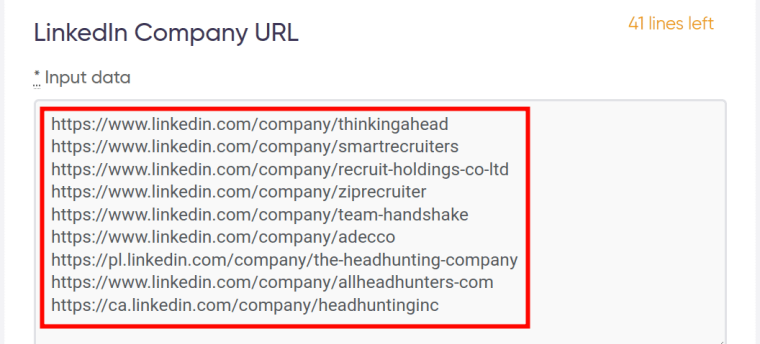 It is yet another smart bot that scrapes company employees' details from LinkedIn, and it will help us perform our live email lookup successfully!
Now select how many employees you would like to scrape (the more - the better, because you never know how many of them are registered on LinkedIn) and launch the bot: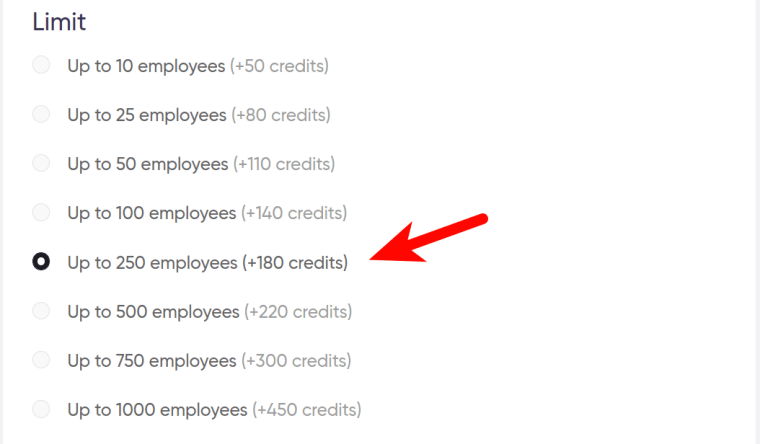 The resulting table will contain employee profile URLs, their image URLs, names and titles (learn how to find emails addresses as well while staying anonymous on LinkedIn). The last two columns interest us most:

To find the decision maker fast, use Excel's 'Find' function:
Open the resulting table in the Excel format
Press Ctrl + F
Type in 'CEO' ('President', 'Founder', 'Director', etc.)
In my example, it was the 'President' query that worked: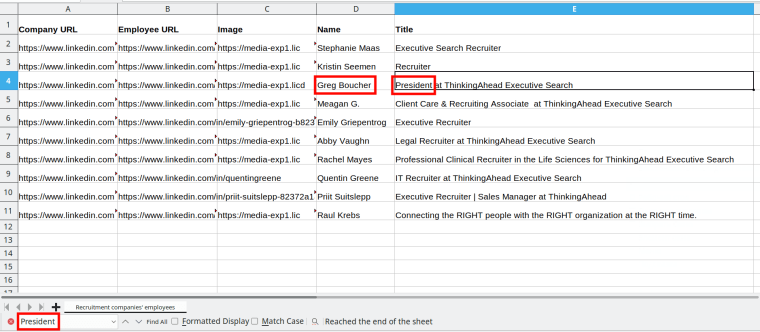 So, the automatic way of finding the company's president has worked just as well as the manual one but faster! 🚀
---
c) …automatically (variant 2)
There is yet another way to find decision makers fast using a special bot. For this purpose, you can scan the company website's HTML code for relevant keywords like 'CEO', 'President', 'Founder', 'Director' and so on. This is exactly what my brand-new HTML Code Scanner does.
How to use it?
First, open the bot's start page and specify how many pages you would like to scan (the larger the number of the pages - the higher the likelihood of finding decision makers):

Second, insert your queries. I've inserted all synonyms to the word 'CEO' that sprang to my mind:

Third, copy the domains retrieved by the Google Search Results Scraper in Step 1 (these domains are a real hit, don't you think so? We've already copy-pasted them to three different bots!):

Fourth, paste these domains into a special field, and launch the bot: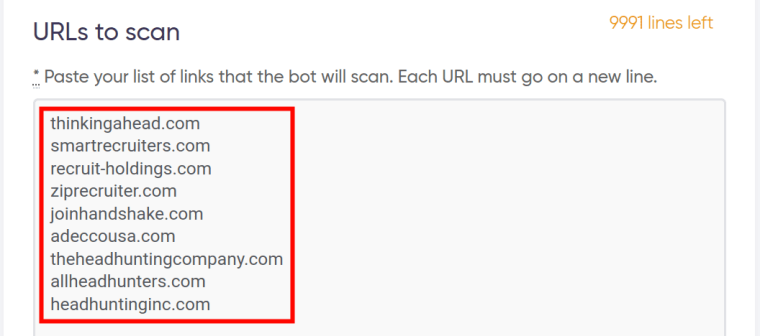 Let's take a look at the final results. Sort them in descending order, and the pages that we are interested in will be on top of the column:

'True' means that the desired query has been found on the website
'False' means that the desired query hasn't been detected
I've checked all 5 links and found out (for the third time today 😏) that the president of this recruiting company is Greg Boucher. On the screenshot below, the link highlighted green shows which URL contains his name:
This is yet another proof of the fact that all three ways of finding the actual decision makers work 100%.
---
Valid email lookup
When I do bulk mailing, I always check email addresses for validity before sending cold letters to them. Otherwise, you may spend your precious time in vain!
This is very easy with the Email Validator. It checks if the emails you entered are valid. I recommend you to use it whenever you perform an email lookup for any purpose.
I opened the bot's start page, pasted the recruitment companies' emails retrieved, and launched the bot:

One of the emails turned out to be invalid:

So I didn't include it in my bulk mailing campaign.
Now that my CEO emails list was ready, I started my bulk mailing campaign. It took me just 2 minutes a day to send out the letters!

---
FAQ about finding emails online
Finally, let me answer your most frequent questions concerning the email lookup tools available.
What is email lookup needed for?
Email lookup is a process of finding and exporting the desired emails from the web using special tools. It is needed for digital marketing, bulk mailing, addressing your target audience, building new business contacts, and many other purposes.
How to find emails for cold emailing? / How to find emails for email marketing?
I have many different bots that extract emails for cold emailing and marketing from different sources. Check them out:
Each of these bots has detailed instructions on how to use it.
How to find emails from LinkedIn profiles?
Use the LinkedIn Email Miner: insert your keywords, location and email masks, and the bot will retrieve emails from public LinkedIn profiles.
What is the best way to find emails of companies for marketing?
Retrieve these businesses' domains using the Google Search Results Scraper and then export their emails using the Company Email Finder.
How to find your work email domain?
A work email domain is the part of the email that includes the @ symbol and everything that comes after it.
How to find emails by domain name online?
Do this with the help of the Company Email Finder. Insert company domains and retrieve a list of all corporate emails having the same domain.
And my favourite question:
How to find emails of CEOs in bulk?
Follow the strategy described in this post! Here is a brief overview of what has been said:
Use the Google Search Results Scraper to export company domains.
Use the Company Email Finder to extract all emails having these domains.
Use EITHER a combination of two LinkedIn bots (Linkedin Company Finder + LinkedIn Employee Scraper) OR the HTML Code Scanner to check who is the decision maker in the company.
Use the Email Validator to check the retrieved emails for validity.
Bulk-mail!