How to Generate Insurance Leads Using Smart Automation Tools?
Published on April 18, 2022
by Botster
---
Make a customer, not a sale: this fundamental truth gets even more important when we speak about insurance lead generation. In fact, leads are none other than… people! How to attract them to your insurance company with minimal effort - that is the question.
Luckily enough, not a rhetorical one: I'm here to tell you about smart online tools that will facilitate and speed up the task for you. Meet the bots that will do this job instead of you!
If you are reading this article, you might have already read dozens of other articles enlisting online insurance lead generation tips. They all work and are worth following but my goal is to help you cut the time ✂️ spent on doing this task by automating it. Read on!
---
👨‍👩‍👧‍👦 Life insurance lead generation ideas
There are so many insurance types to generate leads for. Let's start with the most demanded one - life insurance.
The best way to get life insurance leads is by contacting real people. Let's think what kind of people are most likely to agree to buy life insurance. To my mind, these are:
People who often risk their lives professionally, e.g.:
Industrial climbers;
Aircraft pilots;
Roofers;
Sailors;
Military servants, etc.
...or as a hobby:
Mountaineers;
Bikers;
Base jumpers;
Hang gliders;
Scuba divers, etc.
Further groups of people who may consider buying life insurance include:
Families with kids where parents want to protect their children from possible financial losses that could take place if something happened to them;
People taking out a mortgage to buy a new house. Banks demand them to insure their lives and not only.
As we can see, the target audience for generating life insurance leads is pretty large! As an experienced insurance agent, you may add some more target groups to this list.
Yet how do you know who actually works as a roofer, does hang gliding in their free time, or drives a powerful Harley Davidson? 🏍️
I'll give you a unique tool that is capable of finding people's emails by keyword. Meet the smart and powerful LinkedIn Email Miner - a magic insurance lead generation tool that will help you extract email addresses from LinkedIn! 💪
This bot scans Google Search using a special query (e.g.: site:linkedin.com "software engineer" california @gmail.com) to retrieve emails from public LinkedIn profiles. Later on, you can use the exported emails to generate online life insurance leads that you are longing for!
Here's a short and simple guide on how to use this bot:
1. Create a free account on Botster:

2. Open the LinkedIn Email Miner's start page and name your job:

3. Enter the keywords that we discussed above (or any other keywords of your choice):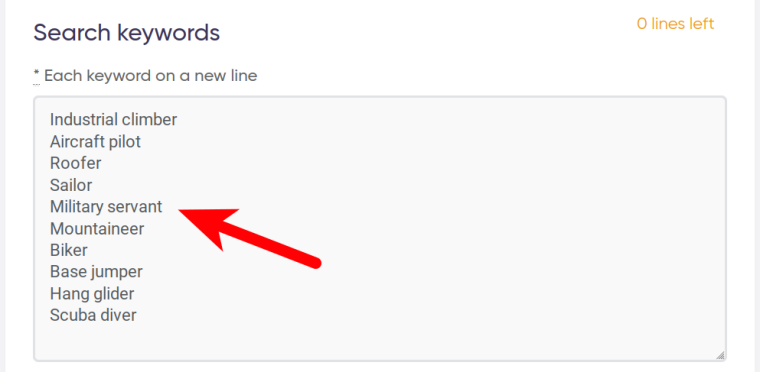 4. Specify your location:

5. Enter as many email masks as possible:

6. Select how you'd like the bot to notify you once the job is done: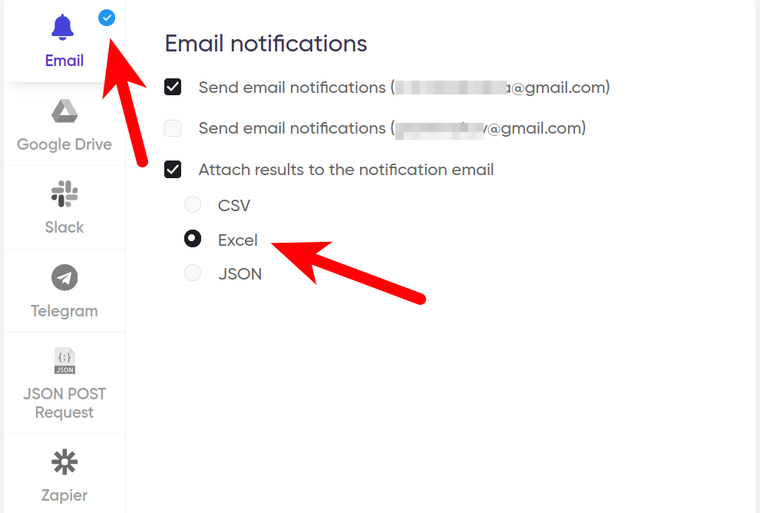 7. …and start the bot!

No, you don't need to do anything else.
Yes, it's really that easy! 👌
If you are more into watching visual content than into reading explanation guides, learn how to use the LinkedIn Email Miner by watching this comprehensive video that I've prepared for you:
In just a couple of minutes the bot has retrieved several hundreds (!) of the risk takers' emails. Let's take a look at the results! On the screenshot below, we've covered the emails retrieved for security reasons:

Now it's time for you to address them via email! 📩 Personal contact is probably the best way to generate life insurance leads online.
We've discussed just one advanced software tool that is helpful in terms of lead generation for insurance companies and agents. But there are many more! ⬇️
---
🚑 Health insurance lead generation
To generate health insurance leads online, let's first think about who is most likely to buy this kind of insurance. Here's what springs to my mind immediately:
Families with kids (since kids need regular medical checkups);
Mortgage borrowers;
Elderly people;
People suffering life-long diseases;
Large companies that provide health insurance to their employees.
Contacting large companies is a rich source of lead generation for health insurance. Let's take a closer look at number 5! 🔎
To get a list of businesses that are likely to provide their employees with health insurance, we will use a smart combination of two health insurance lead generation software tools including the Google Search Results Scraper and the Company Email Finder.
Step 1
First, use the Google Search Results Scraper. This bot scrapes and returns organic search results from Google SERPs for a provided list of keywords. This makes it one of the most deserving insurance lead generation techniques ever!
Here's a short guide on how to bulk-extract the websites of companies that may need health insurance:
1. Open the bot's start page:

2. Select the region where you work:
3. Specify the relevant language:

4. Specify how many top websites you would like to scrape:
5. Enter up to 1000 keywords and launch the bot.
Let's scrape, say, all recruitment agencies in the United States – the larger ones are very likely to provide paid health insurance to their devoted employees.
Remember: the more keywords you enter – the more effectively your health insurance leads generation strategy is going to work:

The bot has extracted quite a number of company domains. Copy them: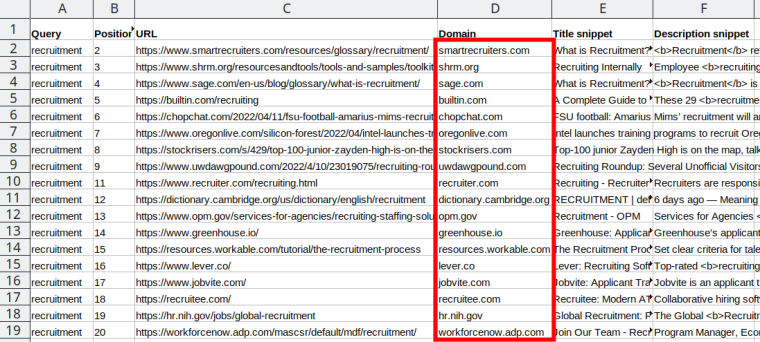 Watch an all-embracing video pof how the Google Search Results Scraper works:
Step 2
Second comes the Company Email Finder. This bot finds all email addresses having the same domain and is particularly useful for CEO email lookup, which makes it an invaluable asset in terms of insurance lead generation.
Open the bot's start page, paste the domains retrieved in Step 2, and launch the bot: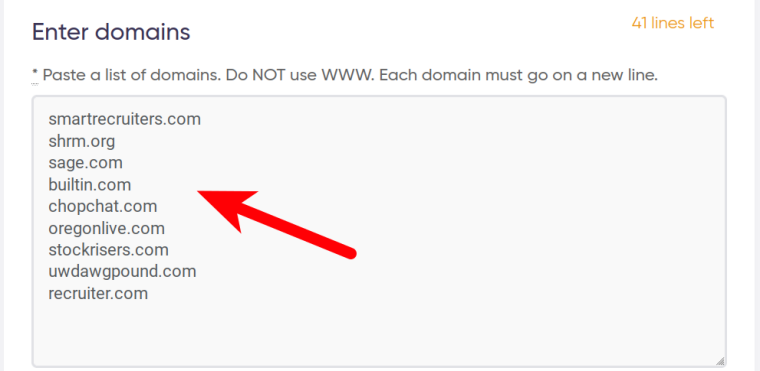 ⚠️ Important: don't include www. ⚠️
The bot has retrieved hundreds of company emails: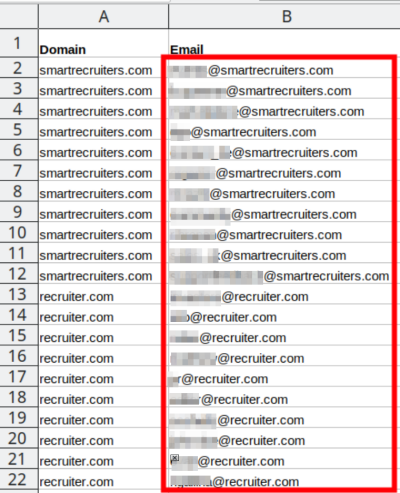 Use these addresses for bulk-mailing the hiring agencies.
Don't forget to include a special insurance offer to win them for collaboration with you! This is one of the must-follow tips for generating health insurance leads via email.
Like my videos? 😊 Here's the one about the Company Email Finder:
---
🏠 Home insurance lead generation
Generating insurance leads in the sphere of rental property often turns into a challenge: practically everyone has a home, yet not everyone is ready to buy insurance for it.
Who is most likely to buy home insurance? Here are some ideas:
Mortgage borrowers;
People living in regions where natural disasters such as earthquakes and floods are likely to happen;
People who have unreliable neighbors;
Landlords who rent out their property to tenants;
Tenants who, in their turn, rent other people's property and are afraid of damaging it.
Seeking for people with unreliable neighbors is pretty overwhelming; and if you don't live in a potentially hazardous region, you are lucky. But I can give you some ideas on where to find landlords and tenants needing insurance, in other words - where to get insurance leads online!
As for rental property, the best choice for generating leads in insurance are… social networks! Both landlords and tenants are active followers of companies offering rental properties. Try the following strategy:
Find some property management companies on social media
Select a rental property management company that has the most followers.
This company's followers are most likely to be landlords and tenants needing property insurance. That's exactly what you need!
Followers are none other than real people. Time to get acquainted with them! 🤝
---
🚙 Auto insurance lead generation
To launch an effective auto insurance lead generation campaign online, we'll need car drivers' contacts. Even though buying auto insurance is a must for every car owner, I'd suggest dividing them into several groups. You can create personalized offers for such driver groups as:
Taxi drivers 🚕
Long-haul truck drivers 🚚
Bus drivers 🚍
Female drivers 👠
Drivers having kids 👶 etc.
The social media strategy described in the home insurance paragraph above can also be used for auto insurance lead generation purposes – it's a universal approach! Do the following:
Find social profiles of car sales companies;
Select the company that has the largest number of followers;

Contact this company's followers

! ✉️
This is how smart car insurance lead generation works 😌
---
💼 Commercial insurance leads generation
Commercial insurance lead generation requires some extra attention. Businesses also need many kinds of insurance, and now I'll tell you how to attract them to you!
If you want to know how to get business insurance leads online, start with making up a list of companies that you would like to win as clients:
If you already have such a list, you can take it;
If not, scrape companies located in your area automatically using the Google Maps Scraper.
The Google Maps Scraper extracts a list of places with info such as contact details from Google Maps based on your search query. This is one of the most effective lead generation tools for insurance business 👍
Here's how to use it:
1. Open the bot's start page and paste up to 1000 keywords.
As an example, let's make sure that all beauty salons 💇‍♀️ in New York are insured against property damage:

2. Select the number of places to scrape.
How many companies are you ready to work with? 5? 50? 100? Or maybe even 200? The more companies' contacts you scrape – the more online commercial insurance leads you are likely to get 💪
Specify the limit in the next field:

The bot has returned the following table:

The table contains the following data (take a look at an example output data file for better understanding):
Google Maps URL
Title
Rating
Rating count
Category
Address
Plus code
Website
Phone number
Rank on maps
Working hours (Monday through Sunday)
Place ID
Latitude
Longitude
If you still have some questions about how to use the Google Maps Scraper, watch this short vid:
Now you've got a long list of beauty salons longing for buying insurance from you! But they don't know it yet 😉 Time to tell them about it!
The resulting table will help you. To generate commercial insurance leads effectively, you can:
Call all these companies using their phone numbers in the I column;
Visit them personally and make an advantageous insurance offer using their addresses in the G column (mind the opening times mentioned in the columns from K to Q ⏲️);
Copy their websites from the H column and use them to scrape their emails and social network accounts to get even more leads.

If I were an insurance agent looking for new leads, I'd go all three ways. You never know what's going to work better!
Points 1 and 2 probably cause no questions whereas point 3 may need some extra explanation. You'll be surprised to know that it's the fastest and the easiest way of attracting clients!
See for yourself: all you need to do is master another simple insurance sales lead generation tool that works online, namely - the Phone, Email and Contact Scraper.
Short guide:
1. Open the Phone, Email and Contact Scraper's start page and specify which contact types you'd like to scrape:
✌️ A money-saving lifehack: since we've already retrieved a phone numbers list for these beauty salons using the Google Maps Scraper, there's no need to scrape their phone numbers once again, meaning that we can save some money by not ticking phone numbers: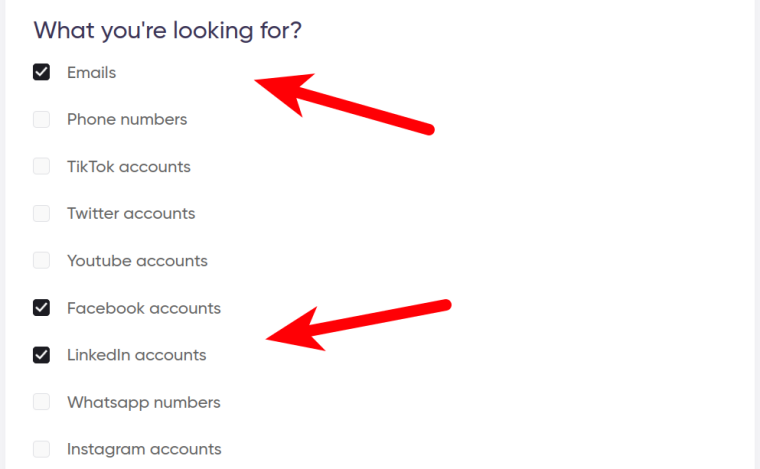 2. Paste the beauty parlor website URLs (i.e. the ones retrieved by the Google Maps Scraper) into a special field and launch the bot:

The bot has returned a table with all these beauty salons' emails and links to the social networks selected:

See how many businesses need you? Don't make them wait for too long! 🏃‍♂️
One last video for today:
---
👔 Lead generation for insurance agents
One last tip: using cutting-edge lead generation software for insurance agents can help you save your time and money and attract more clients. As an agent, you should be aware of which place you take among your competitors. Answer these questions:
Which insurance types do I offer?
How much do I charge my clients for these insurance types?
And the most important question: how much do my competitors charge their clients for the same insurance types?
The last question is a crucial one because when choosing among different organic lead generation strategies for insurance agents you need to understand how competitive your pricing is. Remember: money makes the world go round! 🌐
You can spend hours (if not weeks) opening each of your competitors' websites manually and copy-pasting their prices into an Excel spreadsheet for a fair comparison. Yet there is a smarter solution that will take you just 2 minutes time: to analyze your competition, use a combination of online bots! This is one of the first lead generation tips for insurance agents that I always give my clients.
Step 1
First, use the Google Search Results Scraper (as described in the health insurance paragraph above) to export a list of your competitors' websites.
Enter up to 1000 insurance-related keywords:

The bot has returned about 250 insurance companies' URLs: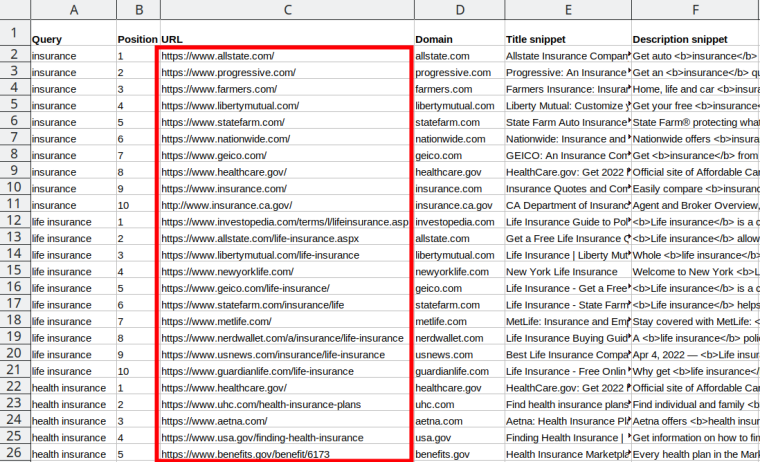 Other exported data include:
Query
Position
URL
Domain
Title snippet
Description snippet
Have a look at this example output file to understand what the results will look like.
Step 2
Now that you have a full competitors URL list you may want to scrape their pricing. I haven't got such a bot yet but you can order a custom bot at any time, with all the necessary features specified! This is exactly what the world's most sophisticated insurance experts do to save their valuable time.
If you haven't decided yet what kind of a custom bot you need, you can take advantage of the organic lead generation ideas for insurance agents using standard online bots described in the above paragraphs!
---
Most common questions to ask about online insurance leads
How to get insurance leads for free on your own?
You can get your leads for almost free using the online bots described in this article. They require no monthly payments and will do the work for cheap. The pricing is written on each bot's page.
How to generate insurance leads online fast?
If you want to do it really fast, then my advice is – automate your work. My bots are so smart that they can do plenty of routine tasks for you. Doing the same things manually will take tons of your precious time. And you do value your time, don't you?
How to get life insurance leads myself without any experience?
Collect your potential clients' contacts using the LinkedIn Email Miner and make your presence known to them. This is an easy strategy that anyone can put to practice, and my bots are always ready to help you!
How to generate health insurance leads online?
Use the Google Search Results Scraper to find large companies that provide their employees with health insurance. Export these companies' emails with the help of the Company Email Finder and launch a bulk-mailing campaign.
Where to get home insurance leads in the US?
Find an American rental property management company on social media and analyze its followers. These are likely to be landlords and tenants that need their homes to be insured. DM them with personalized offers.
How to generate auto insurance leads for foreign cars?
Find a foreign car sales company on social media and analyze its followers. These are likely to be car drivers that need their vehicles to be insured. DM them with personalized offers.
How to generate leads for insurance business companies?
Scrape information about businesses located in your area using the Google Maps Scraper and call them to make an advantageous insurance offer. Go a step further and export these businesses' emails and social network accounts using the Company Email Finder. Then contact these companies via email.
How do insurance agents get leads in bulk?
Follow all surefire tips enlisted in this article! Also, use the Google Search Results Scraper to export a list of your competitors' websites and order a custom bot to scrape your rivals' pricing. Analyze it and elaborate your own competitive pricing strategy.
How do insurance companies generate leads in bulk?
No doubts, they use smart software tools for the means of lead generation. Now that you've read this article you also know the secret!
How to get insurance leads to call you on the phone?
Generate unique insurance content that will grab your clients' attention, announce short-term discounts for narrow client groups, and place a clickable phone button on your website and/or in your social profiles. Believe me, it's going to work!
How to get more insurance leads online?
The more communication channels you use, the more leads you are going to get. Be present and active everywhere – from bulk mailing and cold calling to social networking, and you will reach even your most daring goals!