5 Low-Cost Tools for SaaS B2B Lead Generation
Published on November 11, 2022
by Botster
---
While coding is a mere pleasure, marketing your programming products may be a disaster - especially if you want to sell them to businesses. Being a programmer means being in favor of automation, so why not automate your marketing efforts? This tried-and-true B2B SaaS lead generation strategy is for you!
In this step-by-step walkthrough, you'll learn:
How to generate leads for SaaS companies with Google Ads
How to do B2B SaaS lead generation on Google Maps
How to get SaaS leads on LinkedIn
Which automation tools serve these purposes
Let's find hundreds of B2B clients for your SaaS company in just a couple of clicks!
How to generate SaaS leads with Google Ads
To my mind, the first thing to do in terms of your lead generation SaaS campaign is to launch an effective advertising campaign on Google.
Everybody knows that ads are created to make people want to buy your product or service. Writing advertising texts without experience and prior competitor research is like a shot in the dark - you'll never hit the target.
The Google Ads Extractor is here to help! This bot extracts currently running paid adverts from the first page of Google Search for a list of keywords based on a specific location.
Here is a quick tutorial on how to get more SaaS leads with the help of the Google Ads Extractor:



Enter your branch-related keywords.
⚠️ Each query must go on a new line:

Since Google is very picky about which ads to show, it's worth entering as many keywords as possible to get the most relevant results. To quickly make up a list of best-performing keywords for SaaS lead gen purposes, read my guide on how to scrape Google for keywords.
Select your location on the map:

Select the language that the SaaS ads are supposed to be written in:

Specify the target device (desktop or mobile):

Select the operating system (Windows or MacOS):

Select how you'd like the bot to notify you once the job is done: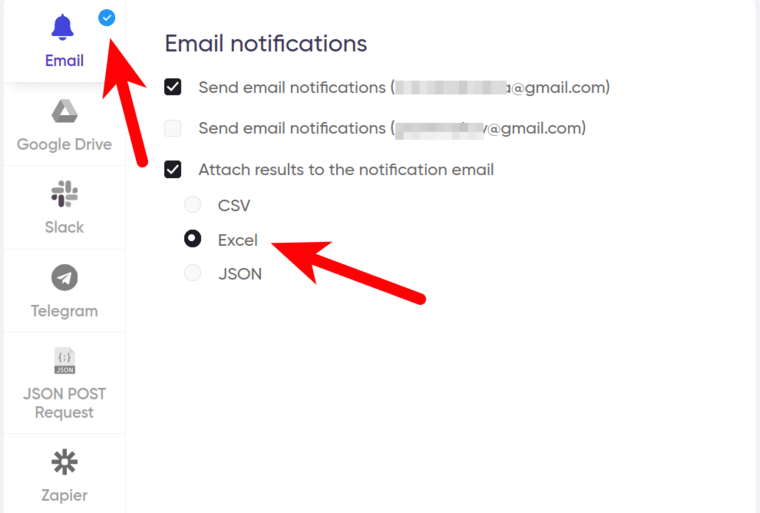 🎥 Video tutorial
Love videos? Then watch me explain how to use the Google Ads Extractor in this short video guide:
✅ Results
The Google Ads Extractor has exported online SaaS ads currently running in the United States:

Let me show you on a screenshot where the advertising titles and descriptions come from: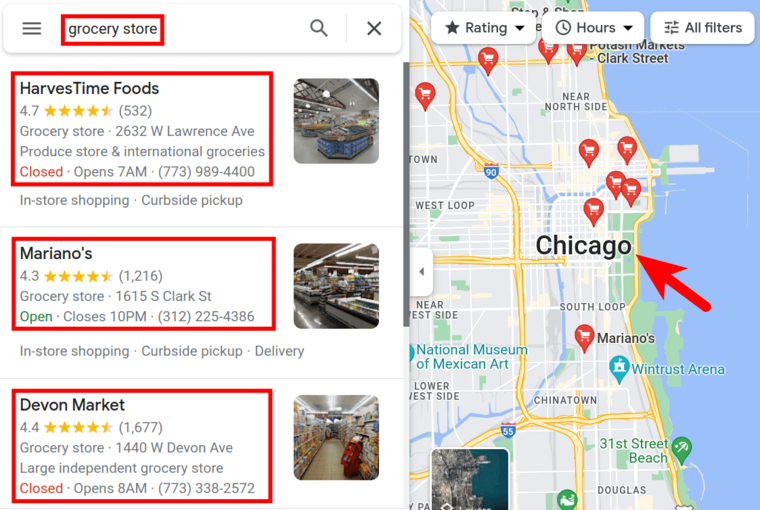 Read my ideas on how to use this valuable information for lead generation for SaaS services 👇
---
💡 B2B SaaS lead generation tips
Read and analyze your competitors' ad titles and descriptions carefully. They must be short and engaging. This is key for an effective SaaS B2B lead generation process!

Ask yourself the following questions:
Which keywords do my competitors use in ad titles and descriptions?
Which words and phrases (other than the keywords) make me want to use this company's SaaS services?
Which sentence structure is used in the descriptions? How does such syntax influence potential clients?
👍 Name one thing that you like most about this SaaS company's ads.
👎 Name one thing that you dislike about this SaaS company's ads.
Now write advertising texts based on your answers. Don't forget the keywords!
And while your ads are working to your advantage, we'll set other lead generation B2B SaaS tools in motion.
---
Getting B2B SaaS leads on Google Maps
Your B2B leads are none other than companies needing SaaS services, preferably on a regular basis. Where to find such? 🤔
On Google Maps! 🗺️ Type in a keyword, and you'll get hundreds of businesses that may be your potential clients.
As an example of how to do SaaS B2B lead generation on Google Maps, let's look for some companies that need to process large amounts of data and may need your professional helping hand - for example, grocery stores. Their employees work with large product databases that need to be updated, merged, improved regularly, and so on.
To make the process twice as fast, we'll use a combination of two automation bots. ⏱️
---
Step 1 - Extracting business websites and phone numbers
Go to Google Maps and find grocery stores in your area - for example, in the windy Chicago 💨: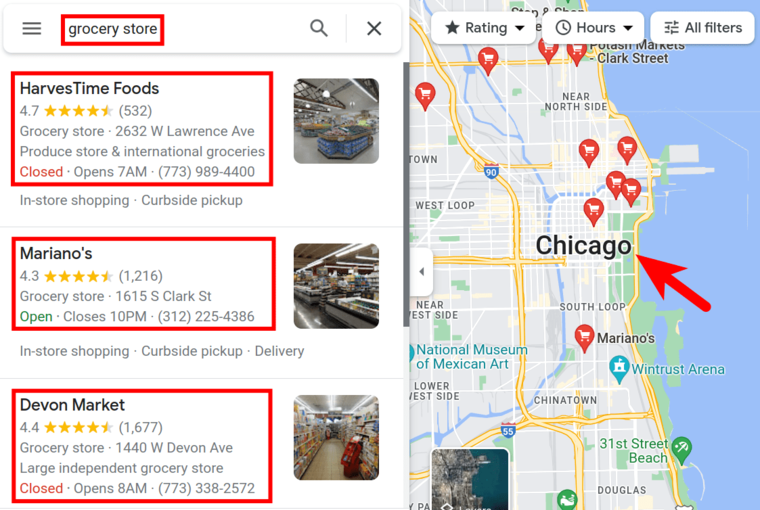 Now you can either copy the details about all these grocery stores manually or - and I suggest and even insist that you go the second way - export them into a spreadsheet using the Google Maps Scraper and use them for SaaS lead gen.
A quick guide:
Open the Google Maps Scraper's start page.
Enter your keywords with locations:

Select how many businesses you would like the Google Maps Scraper to extract (want more SaaS leads - scrape the maximum!):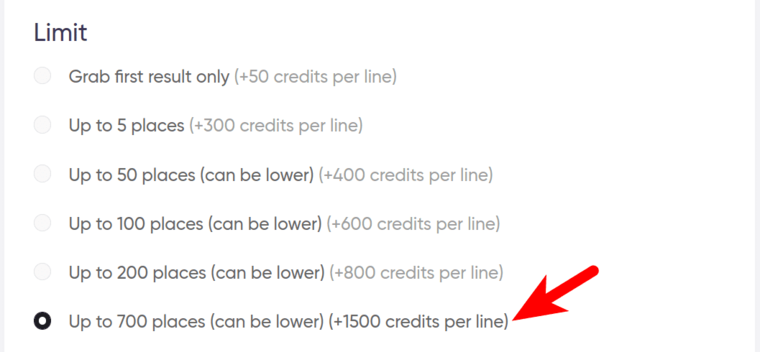 ---
🎥 Video tutorial
Watch my simple video guide on how to use the Google Maps Scraper:
✅ Results
Here is what the resulting spreadsheet looks like (it's only a part of it - the table is too large for just one small screenshot, but it contains all you need for the best rated lead generation for SaaS):

The full list of the exported data includes:
Google Maps URL
Title
Rating
Rating count
Category
Address
Plus code (e.g. "QHRW+6F Financial District, San Francisco, CA")
Website
Phone number
Rank on maps
Working hours (Monday through Sunday)
Place ID
Latitude
Longitude
---
💡 Tips on getting more SaaS sales leads
Use the phone numbers for your cold-calling campaign:

Before starting your cold calling campaign, use a phone data validation tool. This is essential for an effective SaaS lead nurturing.
Extract domains from these grocery stores' website URLs.

❓ What is a domain? It's the core site name deprived of all the extra elements. For example, Mariano's grocery store has a long string in the 'Website' column: https://www.marianos.com/stores/grocery/il/chicago/marianos-south-loop/531/00512?cid=loc_53100512_gmb, whereas only marianos.com is the domain that we need.
❓ Why extract domains? We'll need these domains to extract business emails in the next step. We'll use yet another bot that is capable of retrieving business emails and it accepts domains only. It can't stand long URLs. Brevity is the soul of wit!
❓ How? Either manually by hitting the 'Backspace' button a thousand times until your forefinger goes numb ☝️ or using an automation tool called the Google First Result Finder! It was initially conceived for other purposes but I often use it to automatically extract domains from long site URLs:
Open the Google First Result Finder's start page.
Skip all optional fields and just scroll down to the mandatory 'Search keywords and phrases' field.
Copy the website URLs retrieved by the Google Maps Scraper:

Paste these website URLs into the 'Search keywords and phrases' field.
⚠️ Each URL must go on a new line:

As a result, you'll have a list of domains ready to be used in the next step of our SaaS lead generation strategy:

Let's retrieve the desired business emails from them! ✉️
---
Step 2 - Retrieving CEO emails
To win these grocery stores for collaboration with you, you'll need to speak with their CEOs (and not just secretaries or accountants). Meet the Company Email Finder - this smart bot searches for email addresses with a specific domain name not only on the source site but also everywhere on the web. An amazing SaaS lead generation solution for bulk mailers!
An easy-to-follow guide:

Paste these domains into a special field:

---
🎥 Video tutorial
Watch me demonstrate the power of the Company Email Finder in this video:
✅ Results
This bot is supersonic! ⚡ No sooner had I hit the 'Start this bot' button than the results were already at hand (I've hidden the actual emails for privacy reasons):

The bot has extracted 6 emails for Potash Markets and even more emails for other grocery stores. To achieve top lead generation for SaaS, we now need to find out which of these emails belongs to the actual decision maker. 🤔
---
💡 Tips on lead generation for SaaS companies
Open the grocery store's website and head to the section where the company leadership is enlisted. This section may be called 'Leadership', 'About us', 'Who we are', etc. Match the leaders' names with the emails extracted.
For example, if the CEO's name is Michael Smith, his business email may look like michael@company.com, michaelsmith@company.com, msmith@company.com, and so on.
If there is no information about the grocery store's leadership on the website, open its LinkedIn page and check the employee list. The CEO will definitely be listed there. Then match the CEO's name with the emails extracted.
For bulk business email extraction, check my article on how to find emails of CEOs. Use the lifehack described there when doing lead generation for SaaS companies.
Write a personal email to the grocery store SEOs and kindly offer your unique SaaS services!
---
B2B SaaS lead generation ideas for LinkedIn
LinkedIn is a perfect source of B2B SaaS leads - and a rich email database! CEOs and founders of many companies publish their emails in their LinkedIn profiles, and one of my favorite bots - the LinkedIn Email Miner - can scrape such. (No, it doesn't scrape hidden emails 🚫 Only the publicly visible ones 👌).
In fact, this bot can bulk-scrape emails by profession (e.g. 100 programmers' emails, 200 recruiters' emails, 300 English tutors' emails, etc.) or by any other keyword. A very convenient tool for top rated lead generation for SaaS companies. Today our keyword will be 'grocery store CEO' 🥕
Let me guide you through the bot setup:
Open the LinkedIn Email Miner's start page.
Enter your keywords.
Since lead nurturing in SaaS implies contacting company leaders, our keywords will include as many synonyms denoting the highest positions as possible. Also, we'll add 'grocery store' to all of them to narrow down our search.
Here are all the synonyms for the word CEO that sprang to my mind:

It can be a country or one or more cities. Let's move from Chicago to the whole of the United States - it's time to grow your SaaS business! 📈

An email mask is the second part of the email that includes the @ symbol and the domain (e.g. @gmail.com). You can insert one or more email masks. To maximize your results, opt for the most widespread variants:

---
🎥 Video tutorial
Watch me explain how to use the LinkedIn Email Miner to your advantage:
✅ Results
The LinkedIn Email Miner has exported 312 grocery store CEO emails, and that's for @gmail.com only! (I've hidden the actual emails for privacy reasons):

For example, Jason Boywid is the store director at Heinen's Grocery Store, and Jamie Strachan is the President and CEO at Food-Ag-Brands. And there are 310 other CEOs in the resulting table 💪
You can quickly check who is who by clicking on these people's LinkedIn account links in the 'Profile URL' column:
💡 Tips on lead generation for B2B SaaS companies
Send your unique collab offers to the emails extracted.
Alternatively, contact grocery store CEOs via LinkedIn messages. Just open their profile links in column C and click on the 'Message' button on LinkedIn: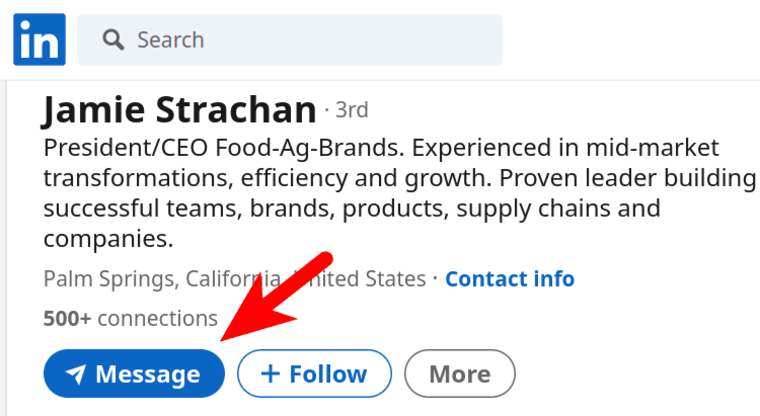 Check who is who before contacting these people. The LinkedIn Email Miner has extracted these emails from Google by using this query:

site:linkedin.com "grocery store CEO" United States @gmail.com
This means that the 'grocery store' query may be present anywhere on their LinkedIn pages - as a present job as well as a past one. Such is the case with Nat Caputo - the bot has extracted her profile and email because she was the President at Jet Foods till 2021. Now she's changed to another sphere, namely - to corporate business solutions, and doesn't fit into our selection:
Find your SaaS lead magnets!
You might be wondering how much these tools cost. For most of them, you'll pay less than for a Twix or Snickers! 🍫 For example, launching the Google Ads Extractor for 2 queries cost me just 7 cents, the LinkedIn Email Miner - 28 cents, and the Google Maps Scraper - the most expensive bot in this article - $1,05. If this is the price to buy several hours of free time, I prefer to pay!
I believe that the best practices for SaaS lead generation must be based on automation. After all, a programmer who has turned automation from his hobby into his lifetime project will stick to the automation principle in everything. And how about YOU?