Smart Lead Generation for Financial Advisors
Published on February 22, 2023
by Botster
---
Being a financial advisor is not all roses! Despite you're a skillful professional, it's not that clients (i.e. leads) are knocking on your door day and night - though you'd love them to. Today I'm going to guide you through the best lead generation for financial advisors!
Read my step-by-step guide and learn:
How to generate leads for financial advisors online
How to find potential clients' phones
How to extract potential clients' emails
Which are the best lead generation tools for financial advisors
Let's imagine that I'm a financial advisor seeking to work with IT companies as well as freelance programmers. I'll show you how to generate leads as a financial advisor and how to find dozens of potential clients in no time!
Financial advisor - B2B lead generation
Scraping business PHONES for the means of financial advisor lead generation
In the digital era, the Yellow Pages have been largely replaced by Google Maps - luckily enough, since you no longer need to thumb through the pages for hours! The digital era allows us to find the necessary contacts in no time and to generate financial advisor leads conveniently on Google Maps.
To find hundreds of companies that may need your financial advice, use the Google Maps Scraper. This online tool can be used for different purposes, yet when it comes to lead generation, financial planning specialists can take advantage of it by extracting businesses, their websites and phone numbers from Google Maps based on a relevant branch keyword.
Here's a quick guide on how to use the Google Maps Scraper:



Enter your search keywords with locations.
Let's say you're searching for clients in Atlanta, Georgia. Enter synonymous phrases meaning 'IT company' and add 'in Atlanta' to them.
⚠️ Each query must go on a new line:

Select how many businesses you would like to export.
The golden rule: the more - the better! After all, these are your potential clients 😉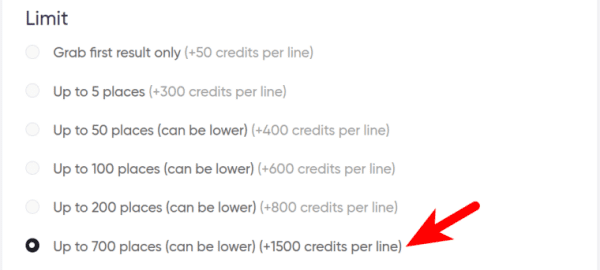 Select how you'd like the bot to notify you once the job is done: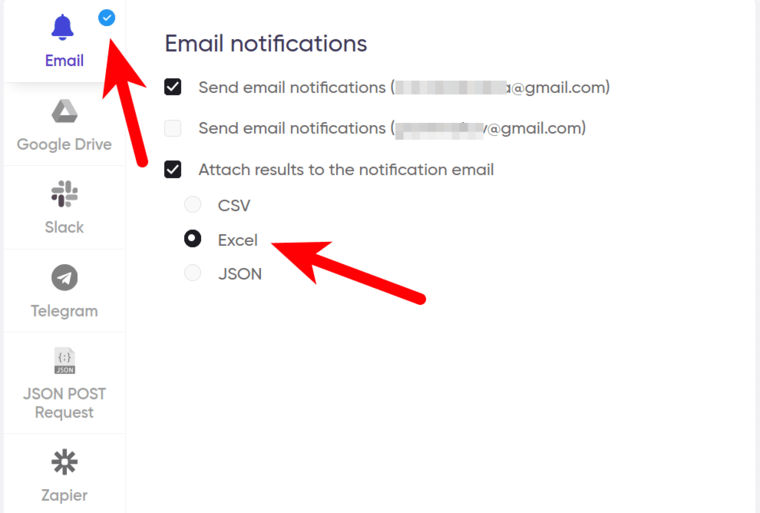 ---
Video guide
Watch me demonstrate how to scrape businesses from Google Maps in this short video:
---
Results
As promised, the resulting table includes IT company names, websites and phones:

The full list of data extracted by the Google Maps Scraper includes the following (see the example file):
Google Maps URL
Title
Rating
Rating count
Category (bar, nightclub, etc.)
Address
Plus code (e.g. "QHRW+6F Financial District, San Francisco, CA")
Website
Phone number
Rank on maps
Working hours (Monday through Sunday)
Place ID
Latitude
Longitude
Take a look at this long list and think how you can use this data in terms of lead generation for financial planners!
---
Tips
If you love communicating with people and have a magnetic personality, schedule a meeting with the company leadership. The physical addresses and working hours of your potential clients have been carefully exported by the bot into the above-mentioned spreadsheet.
Sort the companies ascending by 'Rating'. This will make the businesses with poor reviews move to the top of the table:

If a business has poor reviews, it means that it provides poor service. And if a business provides poor service, it means that its head isn't a competent businessman - hence, he needs your financial advice!
---
Exporting business EMAILS for financial advice lead generation
If you're not into cold phone talks, opt for a bulk email campaign! The more so if extracting business emails goes fast and easy with the cutting-edge Company Email Finder. This bot extracts all emails having the same domain from everywhere on the web, which makes it a perfect financial lead generation tool.
Here's how to launch this bot:

Extract domain names from the websites.
This means that you need to turn all long URLs into short ones like this:
https://bluestoneapps.com/mobile-app-developer-atlanta-ga/ ➡️ bluestoneapps.com
You can do it either manually or automatically with the help of the Google First Result Finder. This is yet another smart lead generation software for financial advisors, and its launching algorithm is described in my post about B2B SaaS lead generation.
Being a huge automation fan, I've opted for the automatic domain extraction ✌️ And here's what I've got now:

Next, open the Company Email Finder's start page.
Copy and paste the domains.
⚠️ Each domain must go on a new line:

---
Video guide
Watch the video walkthrough that explains how the Company Email Finder works:
---
Results
Let's check the results for one IT company as an example. The Company Email Finder has extracted 8 emails featuring the bluestoneapps.com domain (I've hidden the actual email addresses for privacy reasons):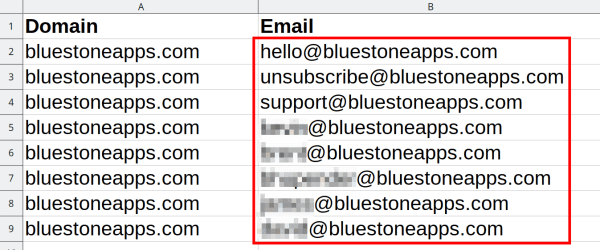 ---
Tips
Select the emails that have real people's names (rather than 'hello' or 'info') before the @. These will work best for your bulk mailing campaign!
To quickly find emails with real people's names, sort the email addresses in alphabetical order. This will facilitate the read-through.
---
Simultaneous extraction of business PHONES & EMAILS for financial planning lead generation purposes
The two bots described above are as quick as lightning - they deliver the desired information literally in seconds! ⚡ Yet my clients keep asking me if there is an opportunity to scrape business phones and emails simultaneously using just one financial specialist lead generation bot instead of the two.
The answer is YES, provided that you have a ready-made list of these companies websites ☝️ That's because the bot needs a source to scrape emails and phones from.
The tool is called the Phone, Email and Contact Scraper. It can export all sorts of contact data including emails, cell and work phone numbers, numeric strings that could potentially be phone numbers, and links to social networks. This tool is absolutely indispensable when it comes to lead generation for financial planners!
Launching the Phone, Email and Contact Scraper is pretty easy:
Open the bot's start page.
Paste company websites or domains.
I'll take the domains list mentioned above.
⚠️ Each query must go on a new line: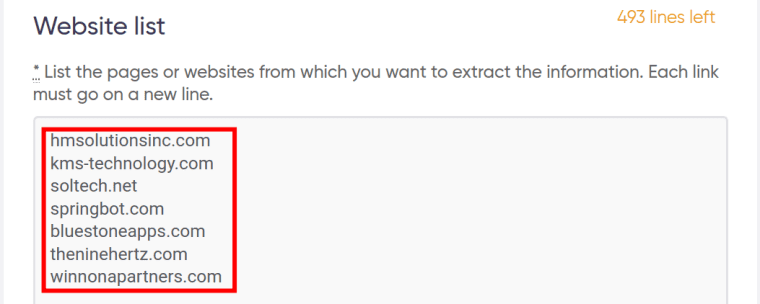 Tick the contact types that you need to export.
I'll tick 'Email' and 'Phone'. The full list includes Skype as well as all sorts of social networks and messengers.

The more pages the bot checks - the higher the opportunity that it will find the desired contacts. That's because astute site owners hide their contacts thoroughly from cold campaigners like you! 😜

---
Video guide
Watch me walk you through the email and phone number crawler bot's setup:
---
Results
Let's analyze the results exported for one of the companies:

As expected, the Phone, Email and Contact Scraper has made up an email list, a phones list, and a list of numeric strings that may or may not be phones. This is more than enough for your financial advisor lead generation marketing campaign!
---
Tips
Make two copies of the table.
Sort one table copy by emails and delete phones and 'maybe-phones'. Your email list is ready!
Sort the other table copy by phones and add 'maybe-phones' to it. Delete the emails. Your phone numbers list is ready!
---
B2C digital lead generation for financial advisor experts
If you are willing to work not only with companies but also with freelancers, you can't do without the LinkedIn Email Miner. This is a certified financial planner lead generation software that you can read more about in my guide on how to extract email addresses from LinkedIn. It can retrieve people's publicly available emails from LinkedIn profiles.
Let's check how to extract programmers' emails from LinkedIn:
Open the LinkedIn Email Miner's start page.
Enter your search keywords.
⚠️ Each query must go on a new line:

Enter the desired location:

💡 An email mask is the part of the email consisting of the @ and the domain, e.g. @gmail.com.
⚠️ Each email mask must go on a new line:

---
Video guide
Watch me explain how the LinkedIn Email Miner works in detail:
---
Results
Wow, this powerful financial lead generation software has retrieved 143 Atlanta programmers' emails, and that's for @gmail only! Not to mention 97 @yahoo.com and 84 @hotmail.com emails. This is enough to build a mighty financial advisors' lead generation database and rapidly promote yourself on the market!

---
Tip
When deciding which email masks to enter, opt for the most wide-spread domains like @gmail.com. They will bring a lot more results for your keywords than less popular domains.
---
Validating contacts for lead generation - financial advisors' toolkit
You are happy to have such a large email and phone database ready for use but… High-quality lead generation for financial advisor experts implies validating these contacts (i.e. checking if they are correct with the help of smart data validation tools) before actually starting to use them. That's because people and businesses often forget to update their contacts on their websites, on Google Maps, on LinkedIn, etc.
Don't worry, though: validating contacts goes even easier than extracting them!
---
Lead generation: advisors' phone validation tool
Not eager to listen to the female voice saying 'The number you have dialed has not been recognized. Please try again later'? Then launch the Phone Number Validator before starting to call people. This tool will bulk-check if the phone numbers you've exported for financial advice lead generation are valid. This bot works with most of the countries.
Follow these simple steps:
Copy the phone numbers list.
As an example, I'll take the phones exported by the Google Maps Scraper:

Open the Phone Number Validator's start page.
Specify the country code:

⚠️ Make sure that each of the phones starts with a country code (for the US, it will be 1 or +1):

---
Video tutorial
Watch my quick video guide on how to use this bot:
---
Results
We're lucky! It looks like all our phone numbers are valid:

Yet what makes me doubt is that New York is mentioned as the region for one of the phone numbers while our target city - Atlanta - is located in Georgia:

I'll exclude this troublesome phone number from my campaign - don't want to waste my precious time calling wrong numbers!
---
Email validation tool for financial lead generation
Just like with the phones, you might be annoyed at getting 'Mail delivery failed' messages, meaning that you spent your time in vain. This is why the last (but not least!) financial lead generation tool for today is the Email Validator. It will bulk-check if the email addresses you've provided are valid.
As an example, let's check the gmails exported by the LinkedIn Email Miner:

Open the Email Validator's start page.
Paste the emails.
⚠️ Each email must go on a new line:

---
Results
One of the emails has been classified as invalid:

Perhaps, the user abandoned it for some reason or lost the password and forgot to remove this email from LinkedIn. At any rate, it won't be included in my bulk mailing campaign.
---
Pricing for lead generation tools for financial advisors
Eager to know how much each of these bots costs? No, leads generation for financial advisors isn't free (but your financial advice isn't free either! 😇). However, I promise you'll be surprised at the actual prices!
When it comes to quality lead generation, financial advisor experts should keep up with the progress and use the best approaches available today. Automation tools are gradually finding their use in more and more business spheres, and the financial sphere is not an exception. I hope that the financial advisor lead generation strategies that I've told you about today will come in handy!