How to Find Business Investors Online
Published on October 03, 2023
by Botster
---
In the quest to find financial support for your business, you might have experienced the frustration of not knowing where to start. It's a challenge that many entrepreneurs face, and it can often seem like an uphill battle. So if you've been looking for how to find investors for a business idea, this guide is for you.
In this article, I'll be sharing with you some easy-to-use automation tools that can make finding investors for your business easier and faster than you might have ever imagined. These tools will be your trusted companions on your journey to securing the investment you need to bring your business ideas to life or take your current venture to the next level.
From this step-by-step guide, you'll learn:
Where to find investors for business
How to leverage user-friendly, easy-to-use automation tools to find potential investors and extract their contact details
Tips for making the best use of the information you get from using these automation tools and how to increase your chances of landing investors for your business
Now, I'd like to introduce you to John, an Atlanta-based real estate enthusiast who dreams of turning old, neglected properties into beautiful, money-making ones.
This means John specializes in buying and fixing up houses to sell or rent. He sees a chance for big growth in the real estate market, but he doesn't have enough money to make it happen.
John's problem is something many people in real estate face: where to find business investors who believe in his plan to make old properties better and earn a profit.
But by using some newly found automation tools just for a few minutes per day, John can find people who can invest in his dreams!
Are you like John and are ready to turbocharge your quest for investors and transform your business idea into a reality?
Let's dive into the world of finding investors for business and explore the tools and techniques that will pave your way to success!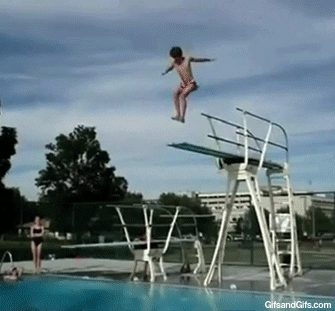 ---
How to find investors for your business idea on Google Maps
The first automation software you can leverage to find a business investor is called the Google Maps Scraper. Basically, this tool can extract a list of places with info such as contact details from Google Maps based on your search query.
This means that this tool can help find investors for small business, including real estate investors or any industry for that matter. It can also extract their contact information such as addresses, phone numbers, and even website addresses.
To access this bot (and the ones I'll mention later on), you must first create an account on Botster:

Registration is free, and your payment details are not required. Once your account is set up and you've verified your email address, you're ready to put the Google Maps Scraper to work.
To get started finding an investor for your business:
Open the Google Maps Scraper's start page by clicking on "Start Bot":

Name your job (e.g. "Investment company in Atlanta") and enter a folder name if you wish: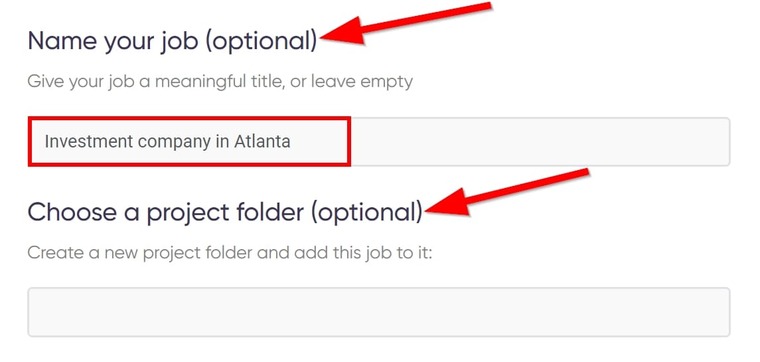 Enter your keywords, including your target location.
Each keyword must be on a new line:

Select how many companies you'd like to extract: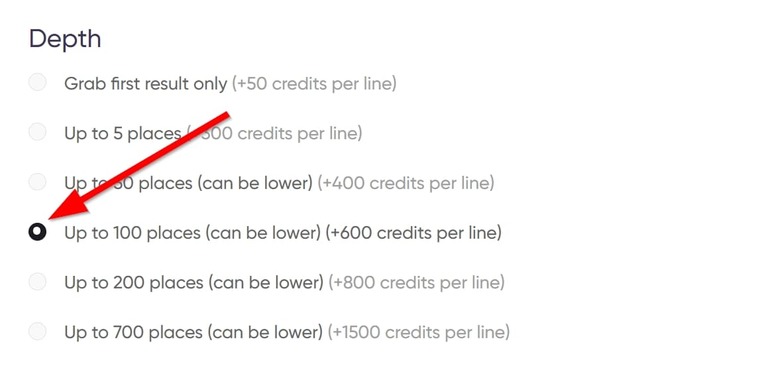 Select the search location on the map. Your location affects the results of your search. So if you're targeting somewhere other than your location, use the target location instead. Also, make sure the location remains in the text box:
Select how you'd like to receive your results.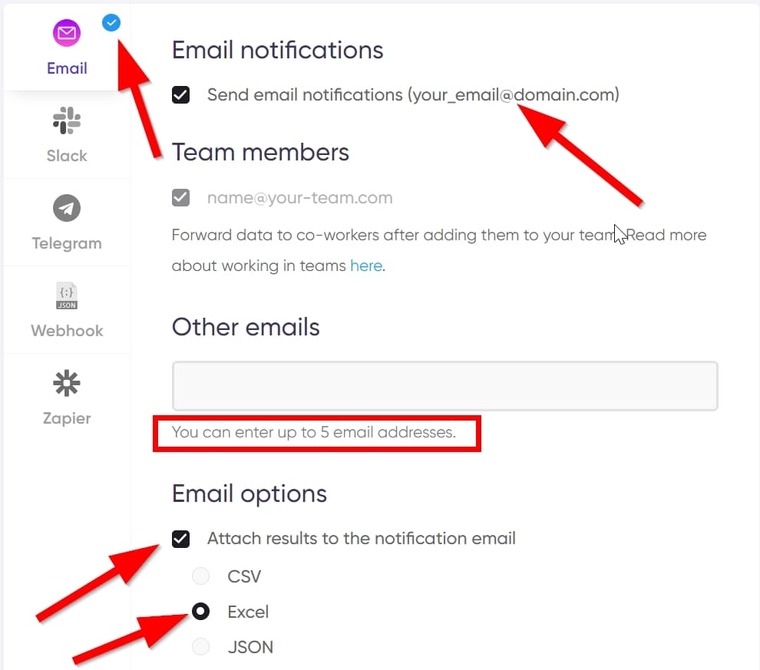 Voila! You're done.
That's the first method to find investors to start a business. Ain't that quick and easy!
---
Video guide
Here's a video tutorial I made earlier, in case you want to watch me go through the steps of how to find someone to invest in your business:
---
Results
Upon launching the Google Maps Scraper into action, the "My Jobs" page will open automatically, and you will be able to see the bot running.
Once the run is completed, you'll receive your result in your email address. You can also choose to see your results online, rerun the project, or download your file in CSV, XLS, or JSON: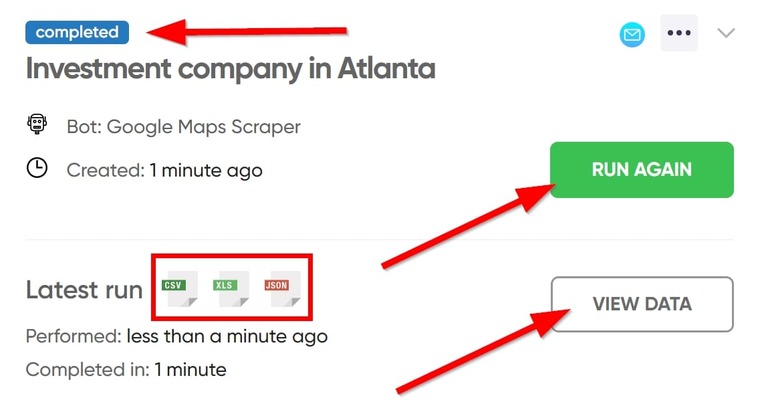 If you choose to download the XLS file and view the results in Microsoft Excel, it looks something like this:

---
Tips
The first thing you should do to quickly find an investor to start a business is to sort the results by "Category" and read through the column carefully to remove the irrelevant results. What we're looking for here are investment companies, not real estate consultants or financial planners:

Next, sort the results by "Rating" to select investment companies with the best reputation. This would give you some assurance concerning their trustworthiness.
You should also try browsing their extracted websites to decide if they are the right ones for you. They might have it stated on their website who they work with.
The Google Maps Scraper extracts their phone numbers, so you can try phoning them to make inquiries.
You can also take a bold step and send them a beautifully designed paper letter with your collaboration offer. Check my article on how to convert lat long to zip code in bulk.
Now, that is just one of the ways to find investors for your small business. I have two more methods to show you, so fasten your seatbelts again! 😁
---
How to find an investor for your business on LinkedIn
There are people who would rather contact business partners and investors on LinkedIn rather than by phone or by mail. There are a few reasons behind this:
The major one is that LinkedIn is a professional networking platform, and it provides a comprehensive overview of a person's professional background at a glance.
It also offers a straightforward and convenient way to send messages and connect with new people in a safe and secure environment.
Besides, LinkedIn being a global platform is an excellent place to find business investors online.
To quickly make a list of potential investors to contact on LinkedIn, you'll need a combination of two bots: the LinkedIn Company Finder and the LinkedIn Company Info Extractor.
---
Finding business investors among COMPANIES
Step 1 - Extracting business investors' LinkedIn URLs
The LinkedIn Company Finder can find company pages on LinkedIn in bulk and return their URLs. You only need to supply the company names, and the tool will handle the rest.
To find investors for new business on LinkedIn, you can use the LinkedIn Company Finder by following the steps below:
Launch the LinkedIn Company Finder's start page and name your job.
In the box that says "Company name or domain", input the names of the companies you would like to find on LinkedIn. For this, I will use the companies I found using the Google Maps Scraper: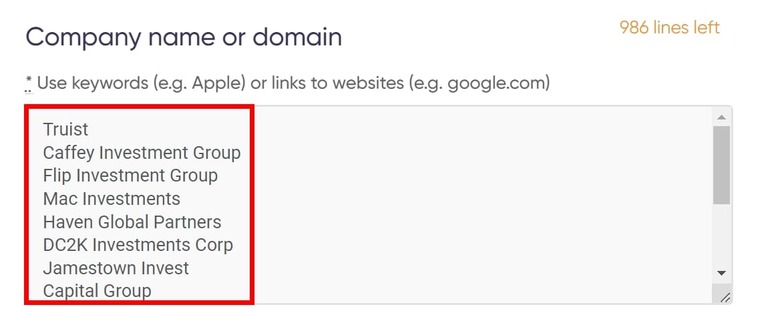 Now set your notification options and click on "Start this bot" to kick the software into action.
---
Video Guide
Here's a quick video guide I made for this software to showcase how it actually works:
---
Results
Now, we have a list of companies where we can try finding an investor for a small business. The list looks like this:

---
Tips
Extracting a list of companies is not all that goes into finding investors for business startup projects. To avoid contacting businesses that will have no interest in your pitch, it is best to check and qualify each company. This will help increase your chances of success. I'll cover how to do this in the next step.
I'll recommend using the 3-7-7 follow-up plan in your quest of finding investors for small businesses. This means that your first follow-up should be 3 days after your initial pitch. Then wait 7 days before sending another follow-up and then another 7 days before sending the last follow-up. Studies have shown that businesses that didn't reply within those 3 weeks of pitch and follow-up are unlikely to reply.
To keep things well organized, I recommend you create a table or spreadsheet where you'll track the LinkedIn outreach success.
---
Step 2 - Analyzing potential business investors' LinkedIn profiles
Now that we've completed the first step of finding investors for a business on LinkedIn, we will proceed to extract their details using the LinkedIn Company Info Extractor. This automation software can extract LinkedIn company info, including the profile URL, company name, tagline, description, website, phone, industry, and lots more.
Using it to find small business investors online is quite straightforward:
Simply launch the LinkedIn Company Info Extractor's start page and name your job.
Next, in the box that says "LinkedIn Company URLs", copy and paste the links you got from the previous extraction in there: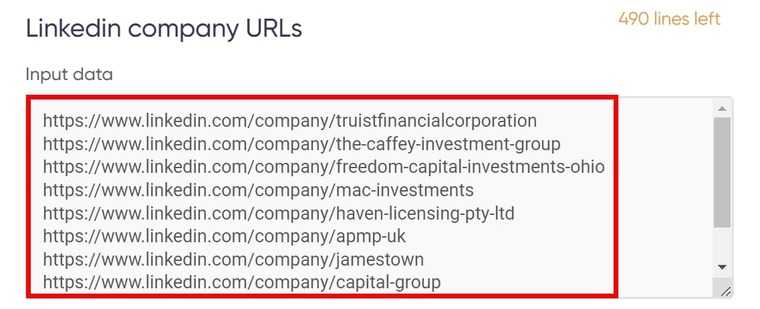 Now launch the bot into action and wait for your results.
---
Video Guide
I also have a video guide prepared in case you'd rather have some graphical content rather than the text I've been feeding you:
---
Results
Now you have the details of these companies at your fingertips. Here's what it looks like in an Excel file:

---
Tips
First, analyze the "Specialties" column to see what kinds of investments each of these companies major in:

If you're interested in a particular specialty, you can sort that same column alphabetically so you can locate them more easily:

Next, analyze the "Industry" column to see what kind of business each company on the list is listed as:

You can also try sorting the results by company type, country, and city. All these can help your selection and elimination processes by segmenting companies within your catchment areas.
Now that we've got that settled, I'd like to show you how to find private investors for small business.
---
How to find PRIVATE business investors
For this project, we'll still be using a LinkedIn data extraction tool. But this time around, it's the LinkedIn Email Miner.
What this tool does is specific. It will try finding investors for a new business by scanning the web using a unique query format. It will extract a ton of information about the individuals it finds using your keywords such as name, location, profile link, email address, and some more.
To use the LinkedIn Email Miner in finding investors for a small business, follow the steps below:
Launch the LinkedIn Email Miner's start page and name your job.
In the box that says "Search Keywords", enter the keyword "investor":

Next, enter the locations where you want the bot to find investment for your business.
If you have more than one target location in mind, you can enter them all here:

Finally, enter your preferred email masks and launch the bot into action!

---
Video Guide
Here's a video guide of how to use the LinkedIn Email Miner if you'd rather consume video content:
---
Results
Once the LinkedIn Email Miner is done running, it will export your results and you will be able to download and view them offline. From my query, I got over 200 email addresses:
---
Tips
Not all the emails generated here will be relevant to you, depending on the industry and market you operate in. So I recommend checking the potential investors' LinkedIn pages to make sure they are relevant to your case.
Use the Email Validator to verify the extracted emails before reaching out. This will help keep your delivery and open rates high:
🔹Launch the Email Validator's start page.
🔹Next, copy and paste the emails into the bot, and click on "Start this bot".
🔹It will automatically ping all the addresses and specify whether they're available or not.
Once you've verified the email addresses, reach out to your potential investors with personalized emails expressing your interest in collaborating with them.
While we're here, I'd like to mention that this automation tool we just used to find investors for startup business projects can also be used to find customers when the business finally launches. The entire process is documented in my guide on how to create a B2B sales lead database.
---
How much does it cost to find investors for business using the bots?
One of the best things about finding investors for small business startup projects with the methods I just showed you is that you can find literally hundreds of potential investors all within a matter of minutes and for a very low price. All in all, you can find over 500 potential investors for your business for less than $15. That's cheaper than one regular visit to a supermarket! 🛍️
There's even more offer: you get a free trial period that lets you try any of the bots when you open a Botster account.
If you ask me, I'd say there's nothing stopping you from finding investors for new business. So take that bold step today, and find partners for your business ideas!